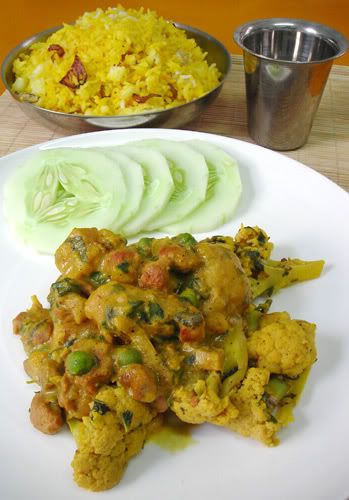 Tonight for dinner I had Cauliflower and Soy Kalia! This lovely Indian dish is traditionally a Kashmiri dish prepared with meat or fish and yogurt. Of course my recipe is the veganised version that I made with soy chunks, cauliflower and coconut milk. This can also be made with red kidney beans if you are allergic to soy or don't have any soy chunks.
By the way, did I mention that my intolerance to soy has practically vanished? I am still crossing fingers on this but I am enjoying more and more soy in my food now with no problems so far!
If you've never had soy chunks before, you might want to try them. They are very easily available over here in Mauritius. But in London, I could only find them in health stores. They are dehydrated chunks made out of soy flour and come in various sizes and colours; you can get them in a minced version as well. The ones I'm using are about one cubic centimeter in size and somewhat orangey in colour.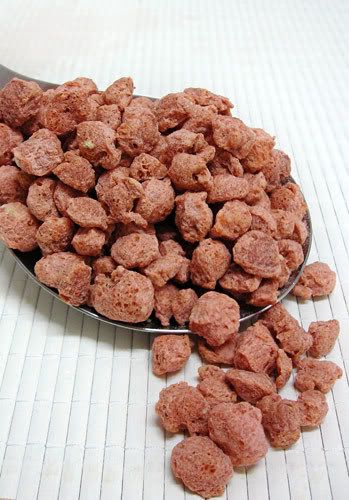 All you need to do is rehydrate them before cooking. You can either soak them for at least 4 hours prior to cooking or boil them for about 15 minutes (in which case you don't need to soak). If you are really out of time, just microwave them from dry in a big bowl of water for about 2-3 minutes or until soft and spongy.
You can use them in various dishes like stir fries, curries, stews and I sometimes make patties with the minced ones.
Ingredients (4-5 servings)
2 cups soy chunks (pre-soaked or boiled)
1 medium cauliflower broken into florets
3 medium potatoes (cut into cubes)
2 large white onions, finely sliced or chopped
1 tablespoon minced ginger
1 teaspoon minced garlic
1 can (400g net weight) coconut milk
2 teaspoons ground cumin
2 teaspoons garam masala (or just cinnamon if you don't have this)
1 cup finely chopped fresh mint
1 cup finely chopped coriander
2 tablespoons frozen peas (optional)
2 tablespoons vegetable oil
1 teaspoon powdered curcuma (or yellow food colour)
Salt to taste (probably 1 teaspoon should be enough)**
Heat 1 tablespoon of oil in a deep pan. Add soy chunks and potatoes with curcuma.
Stir well and cook until potatoes are half cooked. (fork test)
Remove from pan and set aside.
In the same pan, heat 1 tablespoon oil.
Add onions and stir fry for about 2 minutes.
Add ginger, garlic, coconut milk, cumin and garam masala.
Let simmer on medium heat until liquid is reduced to about half.
Add half of the coriander and mint.
Add water and simmer for about 2-3 minutes.
Add potatoes, soy chunks and peas. Add more water if required to create enough sauce for the potatoes to cook without sticking to the pan.
When potatoes are almost cooked, add cauliflower. (Make sure to add the cauliflower at the very end, otherwise they will cook too much).
Add the rest of the coriander and mint.
Cover and simmer until all is well cooked and liquid has reduced and thicken.
Add salt to taste.
You can have this with plain rice or Indian bread or yellow rice like I did.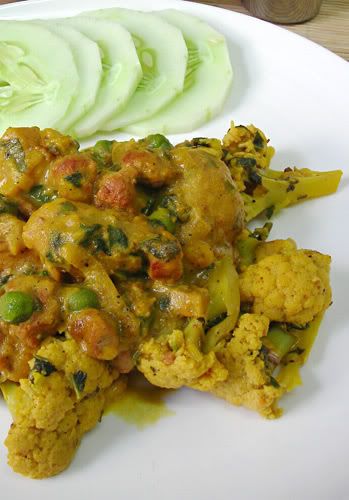 I made the rice in this way.
Ingredients (4-5 servings)
1½ cups basmati rice
1 teaspoon powdered curcuma (or any yellow food colour, liquid is fine)
8-10 whole cardamon pods
1 big white onion, finely sliced
1 tablespoon margarine
Boil the rice with 4-5 cardamon pods. Drain and set aside to cool.
Heat margarine in a large pan. Add onions. Fry until golden, stirring occasionally.
Add remaining cardamons.
Add half of the completely cooled rice to the pan. Stir and mix well.
Add the curcuma or yellow food colour to the rest. Then add this to the pan.
**Edit: I completely forgot to add salt to this recipe. I did have it when I was cooking this! I think all of you must have picked up on this and guessed it needs salt!