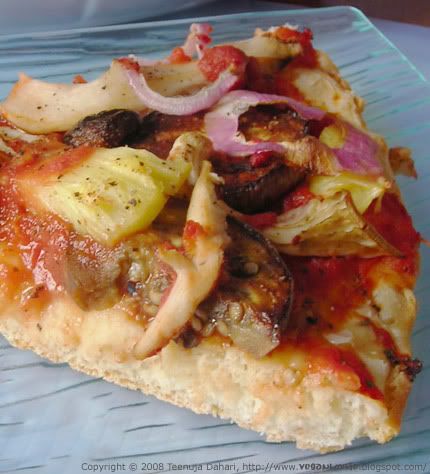 Some people would say,
pizza without cheese
isn't pizza! However, when we go back in history, traditional pizza did not have any cheese. In fact, the innovation which gave us the particular flat bread we call "pizza" was the use of tomato as a topping. The tomato was brought to Europe from the Americas in the 16
th
Century and for some time after, it was believed to be poisonous. It was only by the late 18
th
Century that the poor people of the area around Naples started preparing the dish. They would add tomato to their yeast-based flat bread. And the pizza was born.
The Marinara is the oldest pizza that has been served in pizzerias and also does not have any cheese. It has a topping of tomato, oregano, garlic, extra virgin olive oil and usually basil. It was named "Marinara" not, as many believe, because it has seafood on it (it doesn't) but because it was the food the fishermen ate when they returned home from fishing trips in the Bay of Naples.
I made a no-cheese pizza yesterday and it was really good. Everything held together nicely and I didn't miss the cheese for a bit. (I can't really stand the smell of cheese, especially melted cheese, now anyway.)
During my London days, sometimes I used to have vegan mozzarella cheese on my pizza, but no vegan cheese is available over here in Mauritius. But then even if they were, I would cut down on them. Vegan cheeses are high in fat. They might not contain any cholesterol but they are still highly processed blocks of vegetable oil so they are not any better for cardiovascular health. Besides, not using cheese of any sort saves a few pennies (or cents) for today and also much more in future on a doctor's bill!
This was my Sunday dinner! Yum!
Ingredients
(8 pieces)
For the bread:
300g self-raising flour
1 teaspoon yeast
1 teaspoon sugar
1/2 cup warm water (75ml)
130 ml water
Topping:
1 can finely chopped tomatoes (or tomato puree)
3 tablespoons tomato puree
100g oyster mushrooms
1 medium aubergine
5-6 pitted black olives
150g fresh pineapple
1 medium red onion
2 tablespoons olive oil
1 tablespoon black bean sauce
Dried basil
Salt and pepper to taste
Add the sugar and warm water to the yeast in a cup. Stir until the yeast and sugar is completely dissolved.
Leave to stand for 5 minutes or until the yeast rises.
Add the yeast to the flour in a mixing bowl.
Add the water and knead until a dough is formed. (Be careful while adding the water and check the consistency of the dough before adding more. It will be difficult to handle a watery dough.)
Dust a board with flour and roll the dough flat just slightly larger than the size of the pizza tray.
Sprinkle some flour on a 30 cmpizza tray.

Loosely wrap the dough around the rolling pin to transfer it to the tray.
Cover with a cloth and leave to stand in a warm place for about 20 minutes.
Preheat over at 180 degrees Celsius.
In the meantime, slice the aubergine about 5 mm thick.
Add the black bean sauce to the sliced aubergines. Mix well.
In a frying pan add 2 tablespoons of olive oil.
Add the aubergines and stir to coat them in the oil.
Cover and allow to cook on medium heat until half cooked, turning occasionally. Be careful not to burn them, they can scorch quite easily!
Remove from the pan; set aside.
In the same pan, add the chopped tomatoes.
Allow to reduce a little bit for 2-3 minutes, mashing the tomatoes slightly to a semi-puree. Add salt.
By this time the dough would have risen.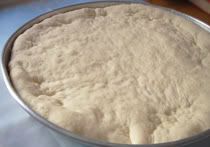 Place the dough in the oven to pre-cook for 12 minutes.
In the meantime, cut the mushrooms and pineapples into small pieces (how small or big depends on how you prefer them to be!).
Slice the onion into rings.
Cut the pitted olives in half.
Remove pizza dough from the oven and lay on a stand.
Start by spreading a layer of the tomato sauce on the dough.
Sprinkle with some dried basil.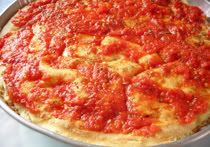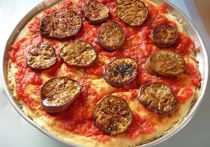 Arrange the mushrooms, olives, pineapple and red onion.
Sprinkle a few spoonfuls of tomato puree on top.
Add some cracked pepper.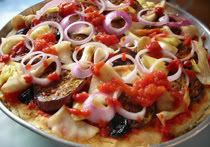 Put in the oven for 20 minutes.
Remove, slice and serve.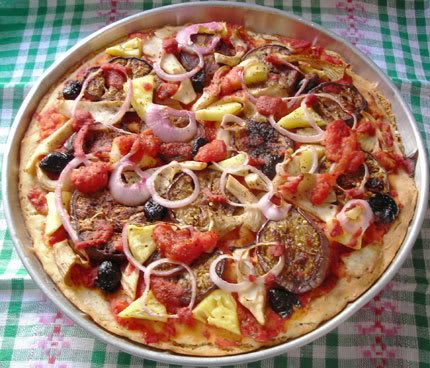 Now, I don't know about you but I think pizzas are best eaten with the fingers! I eat pizzas with my fingers even when I go to restaurants, otherwise they just don't taste the same!
I thought you may want to check out
this book
which features 50 vegan pizza recipes.