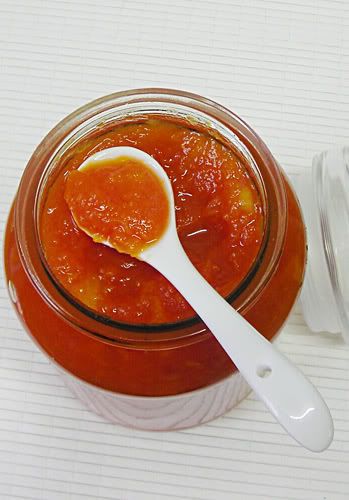 I had 4-5 medium papayas at home that have gone very ripe. I love fresh papayas in the morning, they make a wonderful breakfast. But there were too many of them to eat up. Mum suggested we make some papaya jam and this is what I did on Sunday afternoon.
I always find store bought jams too sweet. So, I've put much less sugar in this one and besides, the papaya was naturally sweet enough. The only thing is that it might not preserve for as long as store bought jams. But then less sugar means I can eat more of it! So, it won't even have the time to go off anyway!
It tasted very homemade on sliced bread. I had a big spoonful with porridge this morning. And SisterLovlie is having this as a warm dessert (lightly heated in the microwaved) tonight!
Ingredients:
6 cups (1 kg) papaya
1 cup (225 g) sugar
2 tablespoons grated orange rind
2 tablespoon crushed pineapple (optional)
1 teaspoon agar agar powder
100 ml water
Peel the papaya, remove the seeds and cut it into small pieces.

Add sugar to it and mash the papaya pieces well.

Add the orange rind and pineapple.

Cook the mash on a low heat, stirring constantly until sugar is dissolved.

Cook until papaya is well cooked and the liquid has reduced.

Mix the agar agar in the water until well dissolved.

Stir this into the papaya puree and simmer for about 7 minutes.

Fill the hot jam in sterilized pots. Close and refrigerate when cool.