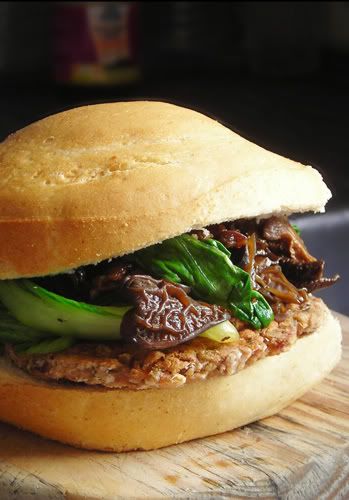 I rarely blog about packed lunch food mainly because I can't manage to get a photo of the food at this time of the day or in the morning. It is quite sad as I think you would have loved some of them.

I usually make chickpea patties in advance and freeze them 'raw' until I need them. I then just deep fry or bake them when I need to. No need to defrost. It's a real time saver when you need a bread filler. And it's a change from store bought burgers and sausages.
You can have this patty with some salad leaves. I actually wanted a bit of mushrooms and greens. So, I had some
Mushroom and Pak Choi Stir Fry
as well in the bread.


Ingredients (4-6 patties):

1 can of chick peas (drained) or 250g boiled
1 large potato, boiled
1 red onion finely chopped
Bunch of fresh thyme leaves (scrape leaves from twigs) or just use dried thyme
1 tablespoon flour
1 teaspoon minced garlic and ginger
1 tablespoon sweet paprika
½ cup cornflour (for coating)
Salt and pepper to taste
Oil (for deep frying or baking)
Mash the chickpeas with the potatoes.

Add the chopped onions, thyme, minced garlic, ginger and 1 tablespoon flour.

Add salt and pepper to taste.

Mix well.

If you are baking these, preheat oven to 200 degrees Celsius.

Mix the paprika with cornflour.

Make small balls with the dough. Make sure they are tight, otherwise they might disintegrate when frying.

Roll in cornflour.

Flatten to make small patties.


For baking, coat each patty with some oil and place in oven for about 20 minutes.

Or deep fry in hot oil.

Drain on absorbent kitchen paper. Allow to cool before placing in bread rolls.
Add your favourite sauces!