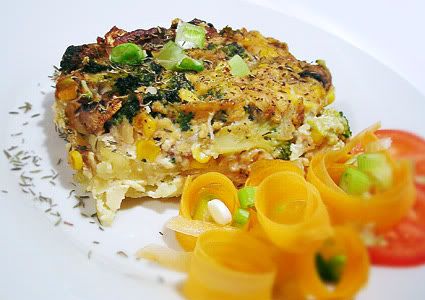 I wanted something different for dinner today; different from rice and curry or noodles and stir fry. I thought a quiche might be nice. But I did not want to be rolling pastry to make a crust and my freezer is too small to keep any frozen pastry dough, which means I can never store the ready-made ones. So I thought of veganising this potato-based quiche from the Gluten Free Cooking School blog I saw the other day. And it was really nice. My version is not gluten-free but it is easy to just omit the flour I've included in the recipe.
This quiche was so quick to make and it could even be cut nicely without falling apart. Everything held together nicely! It was so tasty too and very filling! We had this with some fresh salad on the side. I've put the recipe down as four servings although there was just a little bit left after BoyfriendLovlie and I had seconds!
Ingredients (4 servings)
2 potatoes
1 small broccoli (cut into florets), approx. 2 cups
1 onion, chopped
4-5 large mushrooms, sliced
½ cup canned sweet corn (drained)
1 block tofu (or 375 g, get a smooth one)
½ cup soy milk
1 tablespoon all-purpose flour (although I think this can be omitted if you want this to be gluten-free)
½ teaspoon dried thyme
Vegetable oil
Salt and pepper to taste
Preheat oven at 180 degrees Celsius.
Peel and slice the potatoes thinly. Grease a rectangle (or round) dish with some vegetable oil. Arrange the potatoes at the bottom in 2 layers or so. And put in the oven for 15 minutes.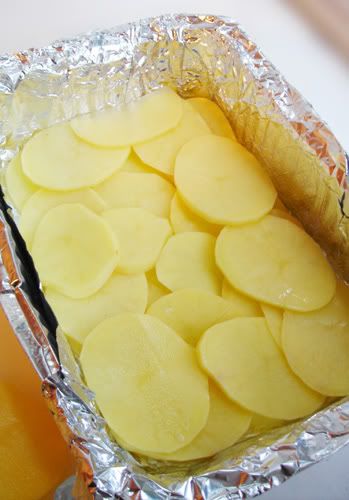 In a wok or deep fry pan, add 1 tablespoon of vegetable oil.

Toss in the chopped onions, broccoli florets and mushrooms.

Stir fry for a few minutes.


Add salt to taste and let cook until half done. Set aside.
Mash the tofu until very smooth. Then add the soymilk and whisk well to obtain a very smooth consistency. (I haven't bought a blender yet since moving to Dublin, but you can use a blender if you have one.)

Add salt (about 1 teaspoon or to taste), thyme, pepper and flour. Mix or blend well.
Spread some of the tofu mixture in between the potatoes (that you would have removed from the oven). This is optional but I found that it helped the potatoes to hold together better. I lifted a layer of the potatoes and spread some of the tofu mixture then placed the potatoes back.

Add the rest of the tofu mixture to the vegetables. Add the sweet corn.

Pour this mixture into the dish onto the potatoes.

Sprinkle with some dried thyme and pepper.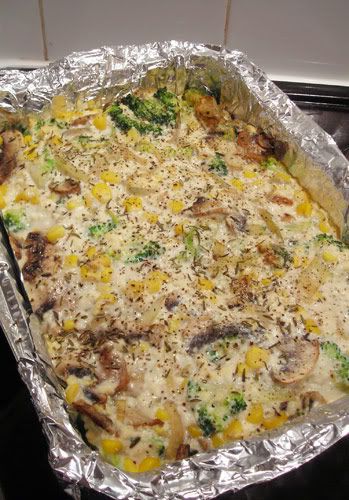 Bake for 40 minutes or until firm. I covered the quiche with some foil halfway through the baking as the top was starting to over-grill.

Remove from the oven and allow to cool for about 10 minutes before cutting.