I made this dish some time during last week and BoyfriendLovlie said this was The-Most-Fabulous-Vegan-Dish I have ever made! Uh! What about the other food I've made so far? Well, I think I'm going to take this one as a compliment. I think the reason he liked it so much is because it was very close to the meat version he used to have! But I agree, it was really delicious and much better than the meat version! Much much better than I anticipated!
It is based on a very popular Mauritian soup dish called Halim. So popular that this is even sold as a hot soup in mini food stalls or caravans on street corners! I very rarely feature Mauritian dishes here although
Mauritius
has a rich food heritage. With the country being multicultural from history, it has a fabulous marriage of cuisines – from Chinese, Indian, Creole style to European. Well, I think Halim originates from
Pakistan or the Persian regions
. However, in
Mauritius
, this has been adapted with Indian spices, the use of Chinese chives or scallions as garnish and traditionally served with French bread. Vinegar or lemon juice can also be added to the soup just before serving.
While Halim is basically a high calorie meat dish laddened with ghee and high fat mutton or beef, my version here is a low-fat vegan one with a slight twist; I have added in some aubergines (or eggplants if you prefer). Eggplants in dhal soup is another Mauritian delicacy!
True Halim recipe calls for cracked wheat. Shame that I did not have any; it's a very tasty addition. Feel free to add in 4 – 5 tablespoons to soak together with the dhal if you happen to have some cracked wheat. I have added it to the recipe in case you are incorporating this ingredient.
The 'Meatless' Balls are adapted from
Joni
's
Swedish Meetballs
recipe. I changed the spices and used minced soy meat instead of TVP. The minced soy meat required less liquid to be rehydrated. I also did not use wheat gluten as I did not have any, but they were still great! BoyfriendLovlie adored the meatless balls on their own. I kept some of them (just the meatless balls) in the freezer and we even had them the next day as a sandwich-filler with salad! They're great to freeze too if you want to make them in advance. I think I'm going to make them into burgers next time.
Meatless Balls Recipe
Ingredients
(about 22 balls – 2.5 cm or 1 inch diameter)
2 cups minced soy meat
1 cup vegetable broth, hot (or 1 stock cube dissolved in hot water)
1 medium onion, finely chopped
2 cloves garlic, minced
1 tablespoon vegetable oil
5 tablespoons all-purpose flour
½ teaspoon cumin (ground)
1 teaspoon garam masala
½ teaspoon ginger powder
½ teaspoon cracked black pepper
4-5 dashes of
Tabasco
(or to taste)
½ teaspoon sea salt or to taste
Oil for frying
Rehydrate minced soy meat by pouring boiling broth over the dry flakes, cover and let sit for 10 minutes.
In a non-stick pan, sauté the onions and garlic in vegetable oil until translucent. About 5-7 minutes.
Remove from heat.
Mix this in the minced soy meat. Add the flour and all of the spices including Tabasco (just don't put your finger in your eyes afterward, when handling!). Let sit until cool enough to handle.
With your hands, form balls about 2.5 cm or 1 inch in diameter.
The balls should be firm enough so they don't fall apart in the oil.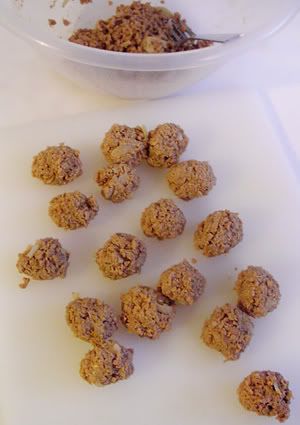 Fry them in oil (allow them to be ⅓ immersed), rolling them around in the pan to brown on all sides. You may need to adjust the heat (i.e. oil should not be too hot) so that the inside is thoroughly cooked as well.
Remove when lightly crispy on all sides. Drain on absorbent paper.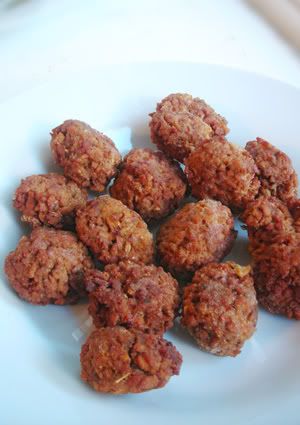 Mauritian Style Vegan Halim with a Twist!
Or Curried Dhal with Meatless Balls and Aubergine

Ingredients
(4 servings)
22 (or so) meatless balls (prepared as above)
1 cup yellow split dhal (soaked for at least 4 hours)
4 – 5 tablespoons cracked wheat (soaked with the dhal for at least 4 hours), optional
1 large aubergine (or eggplant), chunkily sliced
2 tablespoons vegetable oil
1 medium onion, finely chopped
2 cloves garlic, minced
1 teaspoon cumin (ground)
1 tablespoon minced ginger
1 teaspoon mild curry powder (or hot or just your favourite one!)
1 teaspoon turmeric
1 tablespoon vegan margarine (or vegetable oil)
¼ cup soymilk (optional)
Salt to taste
Suggested garnish:
Coriander (or cilantro)
Mint leaves
Chopped scallions / Chinese chives
Lime / lemon wedge (to squeeze on)
Boil dhal together with the cracked wheat and some salt until dhal is soft but still whole (about 15 – 20 minutes). If you are using a pressure cooker, time it so the dhal is not completely disintegrated.
Drain (but not completely) the water into a bowl (you will use this water later if you need to add sauce). Keep both dhal and water aside.
A little note here: it is best not to use too much water to boil the dhal as you will lose a lot of nutritious water otherwise, just use enough so that it doesn't dry up and you can still use the rest as sauce addition.
While the dhal is cooking, you can prepare the eggplant slices. Fry them in 2 tablespoons of vegetable oil until soft and lightly browned. Set aside.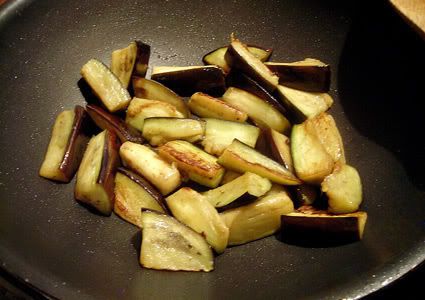 Place cumin, curry powder, turmeric and minced ginger in a bowl. Add some water and stir to form a paste. Set aside.
In a deep sauce pan (Teflon / non-stick preferably), melt vegan margarine.
Add in onions and garlic. Saute until translucent.
Add the curry paste. Add water (from the drained dhal) if required.
Stir and allow spices to roast for a while. 5 – 7 minutes. Add more water if required.
Add in the dhal with some water. Stir and mix well. (The amount of water you add will depend on how thick you want the soup to be. I like thick soups, almost curry-like but if you prefer thin soups, this is also fine).
Add soymilk for a creamier consistency.
When the soup has almost reached the consistency you want, add the meatless balls and the pre-fried eggplants. Stir and mix well. Allow to reduce and thicken slightly. Add salt to taste.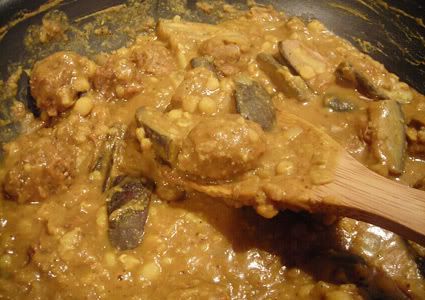 Serve hot with Indian or French bread. (I had chapattis!) Or just as a spicy soup on its own with some scallions and freshly squeezed lemon juice for a fresh tangy taste.
Do you feel like some delicious heartwarming Mauritian inspired dish tonight?!