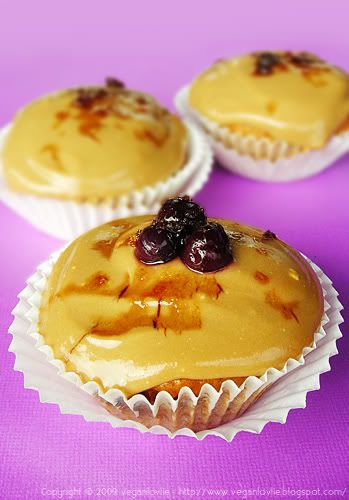 I had never actually made a vegan yogurt cake before. So, I experimented a little bit and it turned out really nice, soft and moist. I made cupcakes but I also tried this in a loaf pan which was nice too. I am not entirely happy about the frosting though. I made it with extra firm tofu, vegan margarine and soft dark brown sugar. But I could get a hint of the tofu in it and I don't particularly like that. Maybe I need some more experimentation on this like adding flavours. So I'm not posting the frosting recipe here. But the cake itself was really nice and I'll definitely make it again!
The recipe is loosely based, veganised and made nut-free from this recipe on the BBC Goodfood website. BTW, have I ever mentioned how much I love that website?!
I am also now providing measurements in metric and cups as I can see there is almost equal preference for both (based on the poll I did a while ago; you can still see it in the side bar ).
Ingredients (about 20 cupcakes)
3 cups (300g) plain flour
1½ cups (150g) dark soft brown sugar
1 teaspoon (7g) baking powder
1 teaspoon (7g) baking soda
¾ cup (150ml) melted vegan margarine
1 cup (200ml / 240g) soy yogurt (I used a strawberry flavoured one)
Juice from ½ lime (or lemon)
½ cup (100 ml) soy milk
1 tablespoon (10ml) vinegar (I used rice vinegar)
Preheat oven at 180 degrees Celsius.

Place vinegar in soy milk and let stand (until needed).

Mix flour and sugar. Add baking powder and baking soda. Mix thoroughly.

Add the lime juice to the yogurt. Stir well.

Pour the melted margarine onto the flour mixture.

Then add the yogurt. Stir and mix.

Add the soy milk mixture. Mix well.

Pour 2 spoonfuls of batter mix into cupcake tray lined with paper cups.

Bake for 30 minutes or until a toothpick inserted into the cake comes out clean.