After the incredibly rich
Nanaimo Bars
of last month Daring Bakers Challenge, we are hit by yet another rich dessert which is the
Tiramisu
! Do you know, I still have some Nanaimo bars in the freezer! I've given up on them when some acnes started to appear! Eek!
As for the Tiramisu, the traditional one wasn't very appealing to me. Although the vegan version of Tiramisu is more healthy, the idea of caffeine, chocolate, vegan cream cheese wasn't really calling my name.
I'm not a caffeine person (I used to like coffee, moderately. But ever since I learnt about the
alkaline diet
benefit and coffee having a
pH of 4
, I've reduced caffeine to a strict minimum). What keeps me going all day is fresh fruits, green smoothies (whenever I can make them), lemon water, green tea and any herbal teas mostly. I am much more awake and energized with these high alkalising foods than I were with coffee!
So, not speculating the idea of adding any coffee or rhum in my tiramisu, I went with a fruity version that tasted wonderful. It may not be what you would expect a tiramisu to taste like but it was a much healthier refreshing dessert...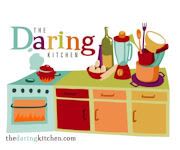 The February 2010 Daring Bakers' challenge was hosted by Aparna of My Diverse Kitchen and Deeba of Passionate About Baking. They chose Tiramisu as the challenge for the month. Their challenge recipe is based on recipes from The Washington Post, Cordon Bleu at Home and Baking Obsession. THE DARING BAKERS FEBRUARY 2010 CHALLENGE: TIRAMISU
...and I even made it soy-free! The cream part was melon and coconut milk and the sauce was a spiced tamarind-apple compote.
The lady fingers biscuits did contain some fat though; I didn't have enough time on experimenting to make this fat-free. It could probably easily have been done by replacing the fat in the recipe with apple sauce, but I haven't tried it myself, so I can't give you any feedback on this.
Spiced Fruity TiramisuFruity Cream
(to replace the zabliagone and mascarpone)
I am not a great fan of tofu frosting because I don't really like the taste of 'raw' tofu. I know tofu is already cooked but I don't particularly like the flavour when it's used as is in frostings. I have tried chocolate mousse frostings before made with tofu and wasn't particularly fond of it. So I had recourse to the internet to find some ideas and a search for homemade vegan whipping cream took me to
this recipe
(from Ricki of
Diet, Desserts and Dogs
) that looked brilliant. The fact that it did not contain any soy was a nice alternative as well. I adapted it for a fruitier taste and it wasn't half bad. Infact it was quite a refreshing cream. I made it very low in sweetness; the compote puree would compensate for sweetness.
Ingredients
200ml water
2cm agar strips (I buy the agar agar as a bunch long strips which I cut through with some scissors. I guess it would be equivalent to about 1/2 teaspoon of powdered agar)
200ml coconut milk
250ml melon puree (peel, cut and blend melon to obtain 250ml)
1 tablespoon maple syrup
2 tablespoons cornstarch
In a deep small pan, place agar and water on medium heat until agar is completely dissolved. Make sure you have all other ingredients ready by the time the agar is dissolved.
Stir everything (except 1 tablespoon cornstarch) into the agar mixture and whisk to combine.

Cook over medium heat, stirring constantly, until the mixture just begins to boil.
Lower heat so that the mixture is still bubbling just under the surface, and cook for 10 minutes. While it continues to cook, stir every minute or so.
Pour the mixture into a deep bowl. Immediately blend with your immersion blender until perfectly smooth. Set aside to cool a little.
When the mixture is still slightly warm but no longer hot (and still fairly liquid), sprinkle the remaining 1 tablespoon cornstarch over the top; using the immersion blender, blend again to even out the texture and get rid of any little lumps. Place the bowl in the refrigerator until the mixture is ice-cold; it will become firm. (Although I did not quite get a gel like firmness as Ricki mentioned in her recipe. But for the purpose of the tiramisu for which I did not require a proper whipped cream, the texture was alright).

Once again using the immersion blender, blend the gelled mixture until it is perfectly smooth and no lumps remain, but don't blend any more than necessary. Scrape down the sides as you go.
Now, using the beaters (or mixer), beat the smoothed mixture until soft peaks form.
The cream is ready. Keep refrigerated until required for use. (I don't recommend keeping this for more than 2 days. The melon will somewhat lose its freshness and may go slightly off).
Vegan Lady Finger Cookies
I adapted from
this recipe
. I initially used this recipe as is but the consistency was not firm enough to be able to roll the dough as the recipe says. I would be able to pipe it but I added more flour instead, up to a cup more. I also made my Lady Finger cookies small and round. The adjusted recipe below.
Ingredients
(about 24 cookies, can't really remember, but got loads!)
3 cups flour
2 teaspoons baking powder
1 teaspoons baking soda
1/2 cup non-hydrogenated margarine
1 cup vegan sugar
1/3 cup maple syrup
1/2 cup rice milk
To make the ladyfingers, sift together flour, baking powder and baking soda and set aside.
In the bowl, cream together margarine and sugar until fluffy (I just used a whisk, because I was too lazy to get the mixer out!).
Stir in maple syrup.
Slowly incorporate the flour mixture until thoroughly combined, alternating with additions of milk.
Cover and chill the dough for at least 1 hour.
Preheat oven to 180°C (350°F) and position a rack in the center of the oven. Line 2 baking trays with greaseproof paper; set aside.
On a lightly floured surface, roll dough into 2cm (3/4-inch) balls.
Arrange on prepared baking sheets, leaving a few inches of room between each cookie.
Bake 8 to 12 minutes, or until cookies are firm and just beginning to brown.
Remove from oven and let cool on baking sheets for about 1 minute.
When firm enough to move, transfer to a wire rack to cool completely.

Spiced Tamarind-Apple Compote
Puree
Ingredients
2 apples, peeled and finely chopped
1 tablespoon tamarind paste (seeds remove by diluting in 1/2 cup water and straining)
1 pinch ground cumin* (just a hint, about 1/8 teaspoon)
5 tablespoons sugar (or more to taste)
*If you are scared of using cumin, then use cinnamon instead but cumin pairs really well with tamarind if using just a pinch.
Place all ingredients in a non-stick deep pan. Simmer for 20 minutes. Adjust water if the consistency is getting too thick.
Remove from heat. Allow to cool a little.
Place in a blender or use a hand blender and make into a puree.
The consistency should not be too thick otherwise the cookies won't be able to absorb the liquid. So, adjust by adding water. If too watery, place back on heat and reduce to desire consistency. (I would say something in between a smoothie and juice).
Assembling the Tiramisu
:
To assemble the tiramisu, I used individual cocktail glasses.
Dip the cookies into the compote. I found that it worked best when the compote is slightly warm. My cookies took about 20 seconds to decently absorb the compote. But do take care not to let the cookies disintegrate.
Place soaked cookies at the bottom of glass. Layer with a tablespoon of compote if desired.
Add in 2 - 3 tablespoons of the fruity cream.
Top with another layer of soaked cookies.
Then another layer of cream.
Sprinkle with some toasted dessicated coconut flakes*.
Decorate with a physalis or other small fruits.
*To toast dessicated coconut flakes, place some coconut flakes in a dry non-stick pan. (Don't add any oil or grease).
Heat on medium, stir occasionally until coconut flakes turn a light golden brown.