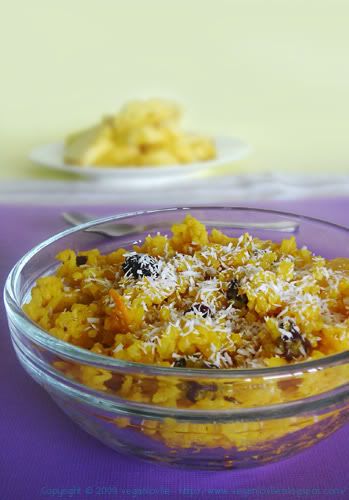 I could have called this Sweet Yellow Rice with Pineapple and Coconut but I want something more exotic! So I've baptised this recipe Sweet Rice à l'Ananas et Noix de Coco. Now that's exotic! Sweet yellow rice is something my mum used to make when I was a kid as an after school snack (and even when I wasn't a kid anymore!). It was a nice change from rice pudding. From time to time I get a little craving for this. But this time, I thought pineapple and coconut would work well in this. Traditionally, mum used to make this with raisins and almonds (unaware I was allergic to nuts at that time; in consequence I always had runny itchy nose, sore throat, colds and flu and sometimes more severe symptoms; we just assumed I was a sickly child).
I am using uncooked rice from scratch in the recipe, but I most of the time make this with left-over cooked rice. Just make sure you cook the rice until still firm and whole, not mushy.
Before we come to the recipe, speaking of sweet rice, don't miss out on the
Rice Cooker Giveaway
from
CSN Stores
, closes
Saturday 20th March at midnight!
Sweet Yellow Rice à l'Ananas et Noix de Coco
1 cup (200g) basmati rice
1 cup (150g) demerara sugar (or to taste)
2 tablespoons demerara sugar
1 cup (200g) diced pineapple (approximate)
1/2 cup (40g) desiccated coconut
10 cardamom pods
1/3 teaspoon cinnamon
1/3 teaspoon curcuma powder (or yellow food color)
1 tablespoon coconut oil
1/2 cup (100ml) coconut milk (or soy milk)
Rinse rice to clean it. Drain.
Place rice in a stock pot or deep pan, fill with enough water to cover the rice. Water level should be about 3 inches (approximately 8 cm) above rice. If using a rice cooker, add 1 3/4 cups water and set to cook.
Rice should be cooked after 15 - 17 minutes (if using basmati rice). Test the grains, they should still be firm but well cooked inside.
Remove from heat, drain and wash with cold water. Drain. Set aside.
In a non-stick pan, add coconut oil.
Place pineapple with 2 tablespoons sugar.

Cook on medium heat for about 7 - 8 minutes or until pineapple is cooked. Stir occasionally to avoid burning.
Add in cardomom pods. Roast a little.
Then add rice a little at a time, stirring to coat each grain with the oil.
Add cinnamon and sprinkle with cucurma powder. Mix well.
Add sugar. Stir and mix well.
Add raisins.
Then pour in the coconut milk. Reduce heat and mix well. It will be quickly absorbed.Lastly add desiccated coconut.
Serve warm.
This recipe has been featured on
Yummly