Last Saturday, I met with a friend for a little hike trip to
Howth
which is a small fishing village north of Dublin. Although I'm not keen on the fishing aspect, it is a nice place to visit nevertheless. We took a nice hike around the hills and cliffs.
At the end of the day, we came back to the village for a nice meal at Ivans restaurant. Of course, being located in a fishing village, Ivans is just an oyster bar and grill; it's not a vegan restaurant but the chef did do a tasty vegan linguini with veggies for me.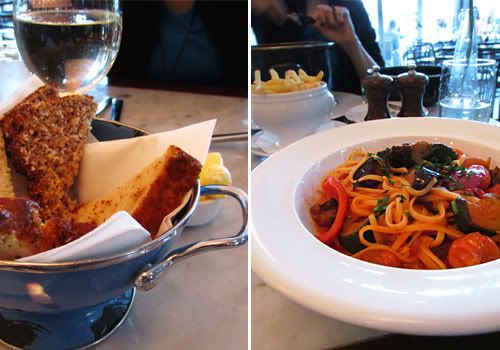 Infact, we also met because it was going to be my friend's birthday on the coming Tuesday and as I wasn't going to meet her during the week. So, I made her some cupcakes and a handmade jewellery gift which she got in advance!
I was so pleased to be able to find a nice cupcake holder box in a shop close to my place. It was my first time packing cupcakes for a gift and I was pretty excited!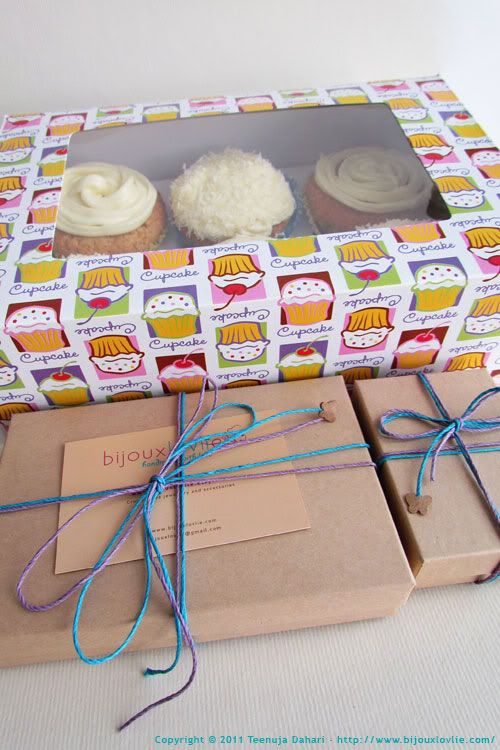 The handmade jewellery I made for her. She really loved them!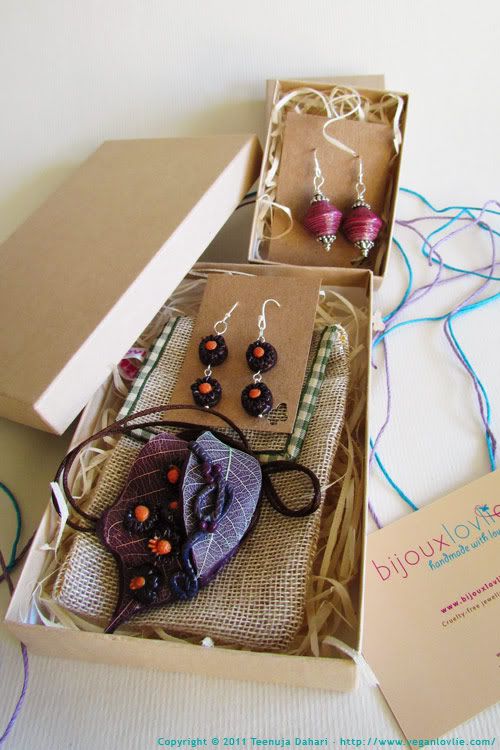 See more photos of our day trip on
my other blog - Bijouxlovlie
this post
.
So, the cupcakes? They turned out great! I made them in two flavours, coconut and lemon.
Here's the recipe below. For the frosting, the quantities below are for 12 cupcakes of each flavour. If you want to make 6 of each, then used the quantity for 1 batch of icing, split in half just before adding the coconut milk or lemon juice. Then add half the amount of the coconut milk to half and lemon juice to the other half of the sugar and margarine mixture.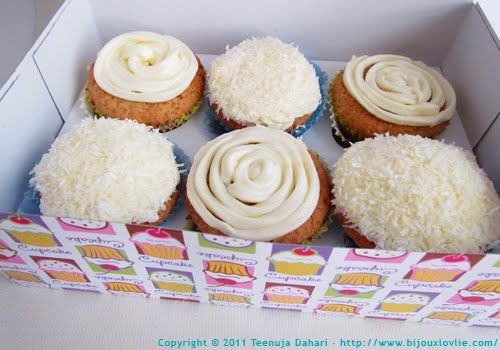 Vegan Coconut (and/or Lemon) Cupcakes (or Cake) Recipe
Ingredients (12 cupcakes or one 23cm / 9-inch round):
1 1/2 cups all purpose (or plain) flour
1 teaspoon baking powder
1/2 teaspoon baking soda
1/2 teaspoon salt
3/4 cup granulated sugar (I used demerara)
1/3 cup vegan margarine (I used
Pure Sunflower Spread
, or use vegetable oil)
1/4 cup coconut flakes
1 cup coconut milk
1 tablespoon apple cider vinegar (white vinegar is also fine)
1/2 teaspoon vanilla extract (optional)
(Variation for lemon cupcake: 1 teaspoon lemon zest if making lemon cupcakes)
Preheat oven to 180 degrees Celcius.
In a larger mixing bowl, cream together margarine and granulated sugar with an electric mixer.
Next, mix in coconut milk, vinegar, and vanilla extract.
In a separate bowl, whisk together all purpose flour, baking powder and salt.
Add the wet ingredients to the bowl with the dry ingredients and mix until well combined. I find mixing with a spatula quite handy for this.
Bake for 20 - 25 minutes for cupcakes (or 25 - 30 minutes for cakes).
Vegan Coconut Buttercream Frosting
Ingredients:
1/2 cup vegan margarine
1 3/4 cup icing sugar
1 tablespoon coconut milk
1 cup coconut flakes
Using an electric mixer, lightly beat margarine.
Add in powdered sugar a little at a time while continuing to beat.
When well mixed, add in coconut milk and beat a little more until smooth.
Use the prepared mixture and frost the cooled cupcakes or cake. Make sure cupcakes are not warm but well cooled.
Lightly press coconut flakes onto the frosting. The easiest way to do this is to gently dip and roll the frosted cupcake in a bowl of coconut flakes.

Variation with Lemon Frosting
Ingredients:
1/2 cup vegan margarine
1 3/4 cup icing sugar
1 tablespoon lemon juice
Directions are same as for the coconut buttercream. To apply the frosting, I used an icing bag made with parchment paper and a star nozzle. Just apply from the centre and spiral out.