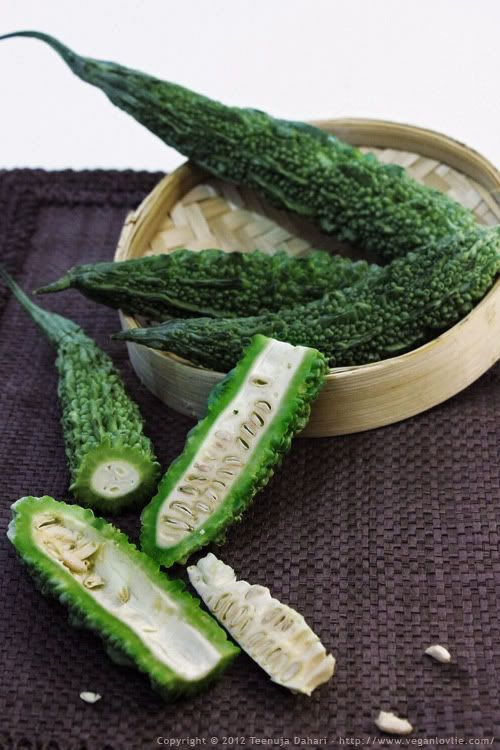 While I am quite a sweet tooth person, I find it strange enough to myself that my favourite vegetable is completely the opposite taste - bitter gourd.
I am probably one of the very few persons who has bitter gourd as a favourite vegetable ever since I started eating it as a kid. This is no joke, I absolutely love bitter gourd and all things slightly bitter (real dark chocolate being second on the list).
Now that I think about it, it probably makes sense that my body naturally calls for some bitterness to counteract all the sweet I put into it.
Everytime I would go back to Mauritius for holidays, I would request bitter gourd curry from Mum for my first dinner. One of Mum's specialities is a somewhat dry curry with potatoes. We would have this over rice with a nice refreshing
watercress soup
.
I imagine that bitter gourd is not a popular vegetable and certainly not with kids. My mum must have been really happy for not having to convince me into eating this nutritious vegetable. I recall I was quite the one who would point out that we haven't had bitter gourd in a while!
Why should you eat bitter gourd?
Despite its unpopular taste, bitter gourd has many nutritional benefits. It is an excellent source of vitamins B1, B2, and B3, C, magnesium, folic acid, zinc, phosphorus, manganese, and has high dietary fiber. It is rich in iron, contains twice the beta-carotene of broccoli, twice the calcium of spinach, and twice the potassium of a banana.
Bitter gourd is also very good for diabetic patients since it has an insulin-like compound that can act as an insulin replacement.
How to eat it?
People prepare bitter gourds in many different ways from making it into
chips
to
juicing
.
Here
are some nice information and consumption tips that I found about bitter gourd.
For my part, I prefer it best as chips and curry (Mum's style). I still need to try it as juice.
Mum's Bitter Gourd Curry (slightly adapted to my way)
Ingredients (serves 5 - 6)
4 bitter gourds
1/2 cauliflower head (cut into florets)
3 medium potatoes (cut into about 2-inch cubes)
1 tablespoon ginger (minced or finely grated)
1/2 tablespoon curry powder
1 tablespoon turmeric powder
1/2 teaspoon ground cumin (optional)
1/2 teaspoon garam masala (mix ground spices - pepper, cloves, cardamon, cinnamon, nutmeg) (optional)
1/2 teaspoon fenugreek seeds
2 fresh green chillies (optional or to taste)
1/2 can coconut milk
Vegetable oil (for cooking)
Salt to taste
Water as needed for cooking
Fresh tomato and coriander for garnish
Prepare bitter gourds by scraping the bumpy skin off with a vegetable peeler. Cut in half lengthwise and remove the seeds. Then cut again in half lengthwise and across. Thoroughly, wash in a salt solution (1 tablespoon salt in a big bowl of water). Drain.
Heat 1 tablespoon oil in a non-stick pan. Add bitter gourd pieces. Stir fry for about 8 - 10 minutes until half cooked and slightly tender. Remove set aside.
Heat another tablespoon oil in the same pan. Add in potatoes. Cook covered until potatoes are halfway till done. Add in cauliflower and cook for another few minutes until both potatoes and cauliflower are nearly cooked. Remove set aside.
Mix curry powder, turmeric, cumic and garam masala with a little water to make a paste.
Heat 1 tablespoon oil, add fenugreek seeds. Roast for about 10 seconds.
Then add in ginger and the curry paste. Roast for 5 - 7 minutes, adjusting water slightly so as not to let it burn but not too much so that it doesn't roast.
Add in all the pre-cooked vegetables and chillies. Add coconut milk and a litte water (if required). Simmer for a few minutes until vegetables are cooked through.
Add salt to taste.
Reduce liquid to a somewhat dry consistency.
Garnish with fresh chopped tomatoes and coriander.
Enjoy with chapatis or rice.