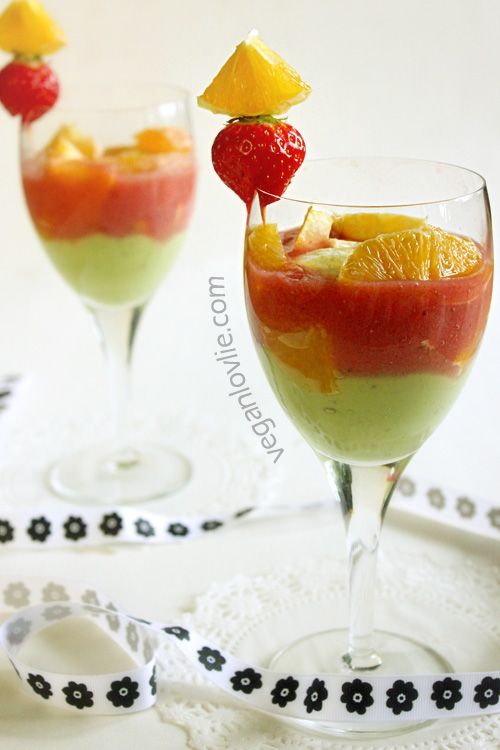 At the Lovlie Cocoon, we bake a vegan cake almost every week. Be it at tea time or dessert, cake always saves the day! But this week I really needed a break from cake but still wanted some kind of dessert. Something lighter than cake... And then it came to me while pondering over the big basket of fruits sitting on the top of our kitchen cupboad. Nature's generous bounty of fruits have made their way in my (almost) daily breakfast smoothies but it was time I called them in a smoothie dessert.
The good thing is that, as luscious as it looks, this dessert is really made in a whiz; all you need is a blender or hand blender (which I used). It doesn't leave you with a guilty conscience since it's all fresh fruits with no added fat or sugar but most important, it tastes great! If you've got friends coming over but don't have the time to spend making an explicit dessert, this one is sure to impress; it will look like you've spent quite some time and effort making it. You could also be whizzing this up while you are entertaining your guests.
This is one dessert that will be loved by adults and kids alike. I call it my 123Smoothie Dessert because there is only just 3 quick and easy steps.
Ingredients (2 servings)
Bottom Layer:
1 avocado
1/2 banana
1 tablespoon maple syrup or 1 pitted date (optional)
Top Layer:
200g fresh strawberries
1/2 banana
1 teaspoon maple syrup (optional)
Toppings:
Any fruit of your choice, cut into small pieces. I chose oranges. Melons are a great choice too!
Maple syrup to drizzle on (optional)
Add the ingredients for the bottom layer in a blender (alternative use a hand blender). Process until smooth. Spoon the mixture equally into 2 cocktail glasses.
Scrape the blender clean.
Then add the ingredients for the top layer in the blender. Blend until smooth. Pour equally in the glasses.
Arrange the fruit pieces on top. If you are not serving this immediately, you can leave this out and arrange just before serving. (The fruits will gradually sink to the bottom otherwise).
Decorate with some fruits pieced through a toothpick. Make a slit in the bottom piece of fruit to secure it on the rim of the glass.
Voilà! Easy as 123Smoothie!