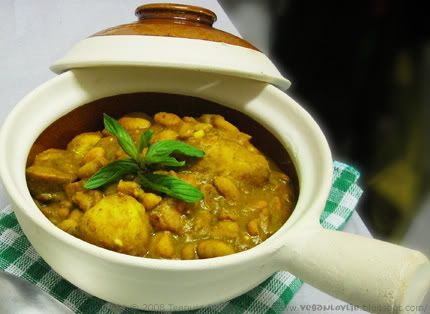 Yummy yams! They are so good to eat just boiled accompanied with some chutney or salsa. Mum got those really cute baby yams. And although I'm not a great fan of curry, I haven't had curry for a while and had never tried yams in curry.
So I gave it a go and it was great! Really creamy mushy taste combined with pinto beans.
If you've been reading my blog for a while you must have noticed that beans appear quite a lot in my recipes! This is because, as mentioned before, I am intolerant to soy and allergic to nuts! So, beans are my only protein saviour!
This recipe could well be done with tofu instead of the beans.
According to nutritiondata.com, yams are a rich source of manganese, potassium and vitamin C. Quite good! I should eat them more often.
I use a mild curry powder as I don't like hot curries. I think hot curry powder just blows off the taste. Don't panic at the use of so many spices in this curry. You could just do a nice curry with curry powder and turmeric. The other spices are optional if you don't have them but they do add more fragrance to the curry.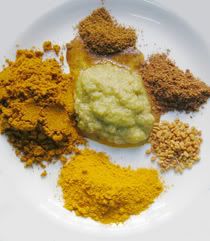 One thing I like about homemade curries is that I don't get a layer of oil floating over the vegetables like when I go to Indian restaurants!
Curries don't have to be sinful! This recipe only contains 1 tablespoon of vegetable oil for 4 servings. I've even done curries with no oil at all and they still taste great. I just use water instead.
Woks are quite handy to use for curries I think. They provide enough room for easy stirring without messing up the kitchen.
Ingredients (4 servings)
250g yams, peeled
1 can (250g) pinto beans, drained
1 onion finely chopped
1 tablespoon garlic and ginger paste (or ½ of each)
1 heaped tablespoon curry powder
1 tablespoon turmeric
1 teaspoon ground cumin (optional)
1 teaspoon garam masala (mix ground spices - pepper, cloves, cardamon, cinnamon, nutmeg) (optional)
½ teaspoon fenugreek seeds (optional)
2 tomatoes (canned or fresh), chopped
1 tablespoon vegetable oil
Salt to taste
Water as needed for cooking
Cut the peeled yams into small pieces. (The baby ones only need to be cut in half and some left whole).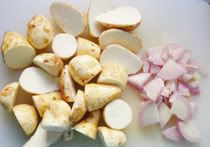 In a bowl combine the garlic and ginger paste, curry powder, turmeric, cumin and garam masala with a little water. Stir to make a paste. Set aside.

In a wok on medium heat, add oil.

Add onions and fenugreek seeds. Stir and cook for 2 minutes.

Add the curry paste and stir.

Add about ¼ cup of water and allow the spices to roast.
When the liquid has reduced, add some more water and allow to reduce again.

Then add about ½ cup water.

Add the yams. Stir.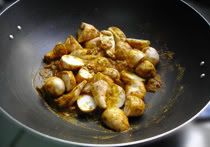 Cover and cook for about 15 minutes.

Occasionally stir and add water if required until yams are soft. Test by inserting a fork.

When yams are cooked, stir in the pinto beans.

Add tomatoes.

Cook for 2-3 minutes.

Add salt to taste.
Enjoy with rice or Indian bread of your choice.