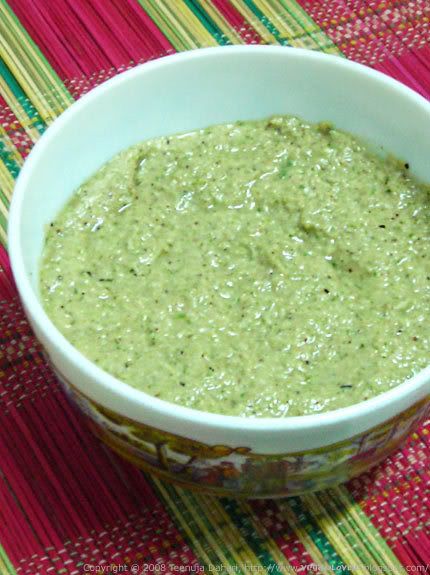 I've previously posted a Coconut Chutney recipe with the Vegetables in Coconut Milk recipe. There are quite a few versions of the Coconut Chutney that I know of and the previous one I posted was with green apple. I've made this one with tamarind puree which is the most common version of the Coconut Chutney.
What's nice about Coconut Chutney is that it keeps for 2-3 days in the fridge and can be eaten as an accompaniment with several dishes. It can also be used as a dipping sauce with snacks or even as a spread on savoury crepes.
Some tamarind paste comes with the seeds. It's easy to separate the seeds by adding a little water to the paste and mixing with hands. The seeds will loosen and come out.
Ingredients
½ fresh coconut meat, finely sliced
1 tablespoon of tamarind paste
4-5 stems fresh mint chopped
1 tablespoon demerara sugar
¼ teaspoon salt
2 green chillies (optional)
40 ml water
Place all the ingredients in a blender and grind to a smooth consistency.

Add more water if required.