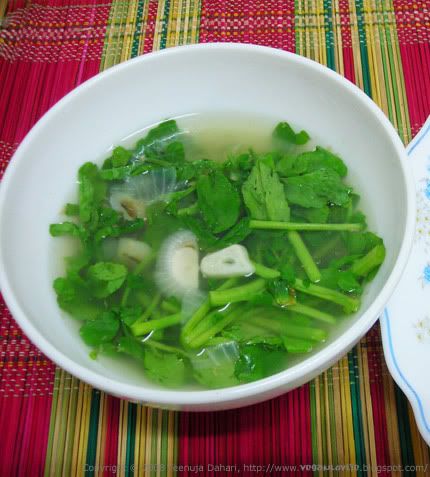 Here's the recipe for the Watercress Soup I had as part of yesterday's dinner.
I love greens soup. This is a light soup and so easy to make. You could add carrots and mushrooms to it if you are having this on its own.
Ingredients (4 servings)
2 bunch of watercress (or 250 g)
1 onion sliced
2 garlic cloves
1 tablespoon potato starch or arrowroot
5 bowls water (or 1 ¼ liters)
1 tablespoon vegetable oil
Salt to taste

Place 1 tablespoon vegetable oil in a large deep pan.
Add onions and garlic. Cook for 1-2 minutes.
Add water.
Stir the potato starch in half a glass of water. Add this to the pan.
Add salt (3/4 teaspoon).
Allow liquid to boil. Do not cover.
Place the watercress in serving bowls (deep enough to accommodate the bouillon).
Fill bowls with the hot bouillon. Adjust salt if necessary.