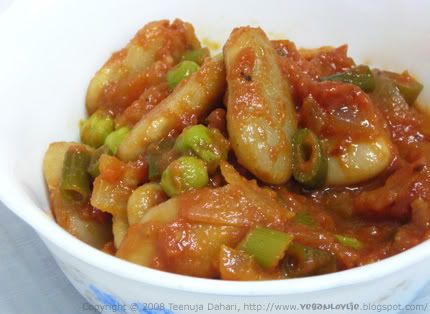 I really like the rich creamy taste of butter beans. And as all beans, they can be made in a number of recipes. For tonight's dinner, they were perfect in tomato sauce with some spring onions, accompanied by some Mashed Aubergine with Potatoes and a Watercress Soup. I also had this with some Coconut Chutney and a little rice. But I could have done without the rice. Here's the recipe for the Butter Beans in Tomato Sauce. The rest is coming up soon, the time it takes to type everything up! (Sometimes cooking is much quicker than writing a post, I reckon!)
Ingredients (4 servings)
1 can butter beans (drained)
½ can tomato puree (or chopped)
1 red onion sliced
4-5 stems spring onions finely chopped
2 garlic cloves finely chopped
½ cup of frozen peas (or as many as you like)
1 tablespoon vegetable oil
Salt to taste
Place oil in a deep pan. Add onions and garlic.

Cook until onions are semi-translucent.

Add tomato puree and peas. (If you are using canned peas, then add them at the end).

Allow to reduce for 10 minutes

Add butter beans.

Add spring onions

Cook for 5 minutes.

Add salt.