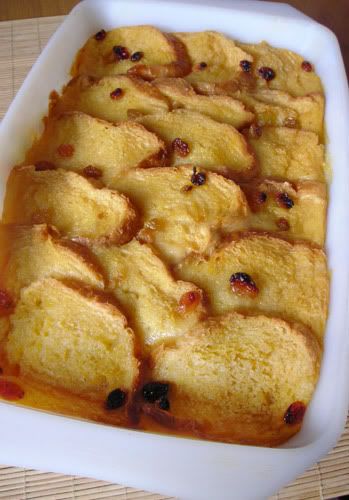 This is a favourite from my childhood days when Mum used to make the non-vegan version. Well even now, when it comes to puddings, I like a big kid who hasn't grown up! Here's my vegan version of the Bread and Butter pudding with a bit of custard powder in the recipe as a binding agent to substitute the eggs and hold everything together. I like the bread sliced with the crust on. But you can remove the crust and mash it down when it is soaked.
Although this is nice as a dessert, it could be good for breakfast too. I enjoyed it on a Sunday afternoon with tea.
Ingredients (8 servings)
5 cups non dairy milk (I used soy this time, with a little bit of hesitation because of the amount required. But I did not get any intolerance symptoms! Woohoo!)
2½ tablespoons custard powder
½ cup demerara sugar
2 tablespoons sugar
200 g bread, 1-2 days old (I'm using metric measurements here as I think it might be easier to measure bread in grams than cups!)
Vegan margarine as needed
1 teaspoon vanilla
Pinch cinnamon (optional)
Raisins
Slice bread and spread each slice with margarine.
Arrange in a rectangular dish 23cm x 30cm (9x12 inch). I arranged them in two layers.
Mix the rest of the ingredients in a large bowl or jug.
Pour half of this mixture onto the bread.
Preheat oven to 180 degrees Celsius.
Let soak for 15 minutes or until all liquid is absorbed by the bread.
Pour the rest of the liquid mixture onto the bread. Add more milk if required to just cover the bread.
Sprinkle with raisins and 2 tablespoons sugar.
Place a tray filled with water on the bottom rack of the oven. This will ensure a moist environment in the oven preventing the bread from going crispy on top.
Place dish in oven and bake for 45 minutes.
Remove and let stand for a while before serving. This will ensure the custard sets a bit.
Enjoy warm!