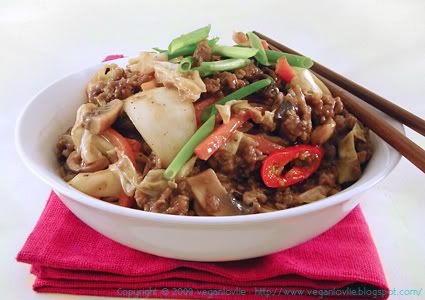 Frozen vegan mince 'meat' is not something I have very often; I am not very fond of over-processed foods. Most of the time I use beans in my recipes for protein. But from time to time I like a change.
Stir fry is something I make very often, most of the time with tofu for protein. I had never tried it with mince before and so yesterday night I thought of giving it a try.
Because stir fry is so versatile, the ingredient quantities are approximate and can be changed to your liking. I however made this one with much less sauce and we had it over noodles sautéed in a bit of oil and spring onions.
When I do a stir fry I like to sauté each vegetable separately. This keeps them crisp as every vegetable has its own cooking time. But also because too many vegetables in the wok create more steam that gets trapped in between the vegetables and this softens them too much. Stir frying a small quantity at a time then mixing them altogether at the end keeps them crispier.
Ingredients (4 - 5 servings)
2 cups (200g) vegan mince meat (I used the Realeat Vegemince that I found in Tesco)
1 carrot (150g), cut long and thin
¼ cabbage (200g), shredded
5 – 6 closed cup mushroom (200g), sliced
3 – 4 clusters dried wood ear mushroom (optional)
1 onion, sliced in big chunks
1 tablespoon black bean sauce
1 teaspoon black bean sauce
1 tablespoon cornstarch (or potato flour)
½ cup (100ml) water
4 tablespoons vegetable oil
Salt to taste
Spring onions for garnish
If using wood ear mushrooms, place them in a bowl of water and microwave for 3 – 4 minutes. Leave to soak in the hot water while cutting the other vegetables, then slice thinly.

Heat 1 tablespoon oil in pan/wok, add mince meat (from frozen). Season with 1 teaspoon black bean sauce, sauté and cook for about 8 minutes.

Remove from heat. Set aside.

Add 1 tablespoon oil in the same pan, then add in carrots. Stir and cook for a few minutes. Remove, set aside.

Add another tablespoon oil, then add in the cabbage. Saute over high heat for 1 – 2 minutes. Remove and set aside.

Repeat with the mushrooms (wood ear and closed cup). Remove and set aside.

Bring all the vegetables (except onions) and mince meat back to the fry pan/wok again. Add 1 tablespoon black bean sauce. Stir and mix well.

Mix cornstarch in water. Pour into the pan and mix well.

Sauce will thicken. Adjust with a little more water if too thick.

Add onions and stir a few times.

Add salt to taste.
If you are having this over noodles, prepare noodles according to package instructions. I re-hydrated mine then sautéed in a bit of oil, soy sauce and spring onions.