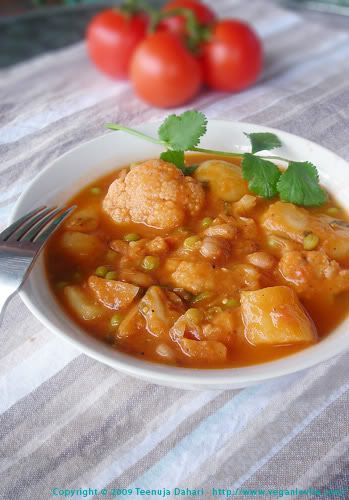 This month's Daring Cooks Challenge was a Brunswick Stew. Brunswick Stew is a classic dish from southeastern United States. Stew is a dish that I make quite often. Although I had never had a Brunswick stew before. Well, apparently we cannot call a stew a Brunswick Stew unless all the ingredients and seasonings are used according to the recipe. So, I guess mine was a vegan UnBrunswick Stew or just a Lovlie Stew. The original recipe uses chicken broth along with meat originally game. I used vegetable stock with pinto beans as meat substitute.

For more flavour I added a pinch of cumin and a dash of cayenne pepper.


If you want to add onions to the recipe, sautee them just before adding the tomato puree in the recipe below.




The 2010 April Daring Cooks challenge was hosted by Wolf of Wolf's Den. She chose to challenge Daring Cooks to make Brunswick Stew. Wolf chose recipes for her challenge from The Lee Bros. Southern Cookbook by Matt Lee and Ted Lee, and from the Callaway, Virginia Ruritan Club.

THE DARING COOKS APRIL 2010 CHALLENGE: BRUNSWICK STEWIngredients (4 to 5 servings)
3 medium potatoes (diced)
1 medium cauliflower head (cut into florets)
1 can plum peeled tomatoes (made into puree)
2 cups pinto beans (boiled)
1/2 cup frozen peas
1 tablespoon maple syrup (or 2 if the tomatoes are more on the sour side)
1 vegetable stock cube
1/4 teaspoon ground cumin
1/4 teaspoon ginger powder (or 1/2 teaspoon fresh grated)
2 tablespoons coconut oil
Salt to taste
Dash of cayenne pepper
Water to make the sauce
Heat 1 tablespoon coconut oil in a deep non-stick pan. Add in potatotes.
Cook on medium heat until half cooked, adding water occasionally if required to avoid burning.
Add in cauliflower florets. Cover and let cook until both potatoes and cauliflower are almost done.
Remove from pan, set aside.
Add 1 tablespoon coconut oil. Add in tomato puree, cumin, vegetable stock and ginger. Sautee for a few minutes until starting to reduce.
Add potatotes and cauliflower. Stir and mix well.
Add beans and peas.
Add about 1 - 2 cups of water or more (depending on the desired sauce consistency).
Cover and simmer for 15 minutes until sauce starts to thicken and vegetables are cooked. Adjust heat and cook uncovered to reduce the sauce to desired consistency.
Add maple syrup, cayenne pepper and salt to taste.