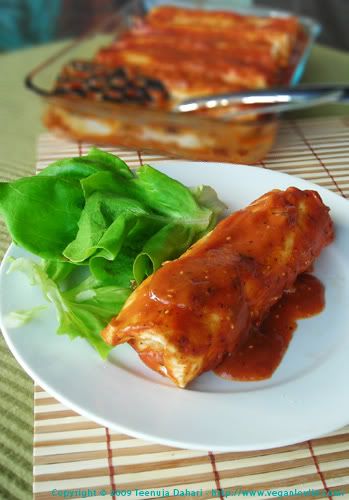 I can't believe it's been a whole month since my last post! I've been working on a few personal projects lately and been more regular to the gym, so haven't found much time for blogging. But I knew I had to do this challenge when I saw the post on the Daring Kitchen website! It was too exciting and I had never made mexican food at home before!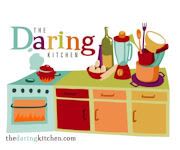 Our hosts this month, Barbara of
Barbara Bakes
and Bunnee of
Anna+Food
have chosen a delicious Stacked Green Chile & Grilled Chicken Enchilada recipe in celebration of Cinco de Mayo! The recipe, featuring a homemade enchilada sauce was found on
www.finecooking.com
and written by Robb Walsh.
THE DARING COOKS MAY 2010 CHALLENGE:
STACKED GREEN CHILE AND GRILLED CHICKEN ENCHILADAS

Of course I replaced the chicken with tofu and vegetables. I also did not make a stack but made rolls instead.
This dish was "succulent" as described by SisterLovlie, when we had this for dinner last night!
I made quite a lot of variations to the original recipe as this challenge was very versatile. The only mandatory part was to make a homemade Mexican style enchilada sauce.
The challenge called for two main ingredients for the sauce - tomatillos and green chilies. I could not find any tomatillos over here in Ireland. In fact I had never heard of these before! However,
Audax
(from Sydney, Australia) suggested to use green gooseberries instead. Well, I could not find any green gooseberries either and was feeling a little bit miserable. I really wanted to try something new for this challenge. And then, it seemed the Universe wanted to cheer me up! I saw a can of gooseberries in syrup on the shelf in Tesco. How cool was that?! I had never seen them before and just when I needed them, they were there smiling at me on the shelf! Now, I only know Audax on the blogsphere through the
Daring Kitchen
, but at that moment I thought, they must have been sent by Audax himself! Hahaha!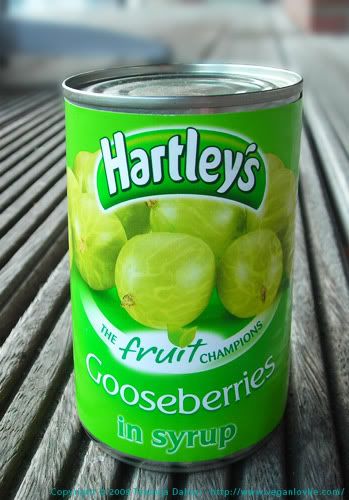 As for the chilies, I used a combination of green and red.
One thing I wasn't really sure of is whether these canned gooseberries would be too sweet for the sauce since they were in syrup. But I hoped they would be fine. I opened the can and quickly tasted one. Great! I thought they would be perfect for this sauce. They still retained a bit of tartness and were slightly sweet from the syrup.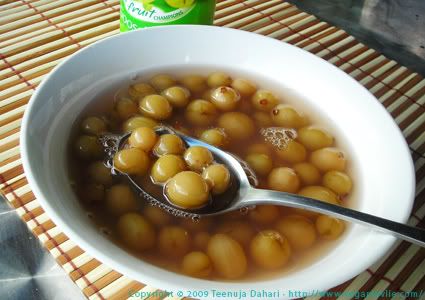 So, the rest of the ingredients for these enchiladas were green beans, aubergine, tamarind paste, tortillas (I used store bought ones). You can't see a can of tomatoes in the picture as I added them in later on when the sauce tasted way too hot and also I did not have enough sauce from using just one can of gooseberries, I realised! I bravely grilled a whole batch of chilies only to use but four in this sauce; it was already too hot!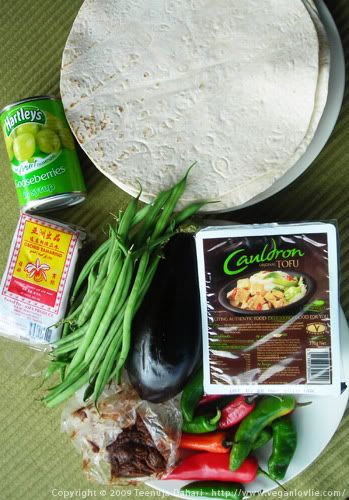 Tofu and Vegetable Enchiladas in Chili, Gooseberry and Tomato Sauce
Ingredients (6 enchiladas)
1 can gooseberries (reserve the syrup)
4 green and red chilies (not peppers)
1 can tomatoes
1 tablespoon tamarind paste (remove seeds if required, by diluting the paste in water)
1 teaspoon grated fresh ginger
1/2 teaspoon dried basil
1 tablespoon vegan cheese powder (optional)
1 teaspoon cornstarch
1 block (aproximately 400g) tofu, cut into small pieces
1 aubergine, sliced
2 cups (approximately 300g) green beans, cut into 1-inch (2.5cm) length
Oil as required for cooking
Salt to taste
Drain gooseberries from syrup (I reserved the syrup to be added into the sauce), place on a baking tray, lined with foil or non-stick sheet. Place chilies on the same tray. Spray with some oil.
Place in oven at 275 degrees and grill until the skin is brown, about 15 minutes.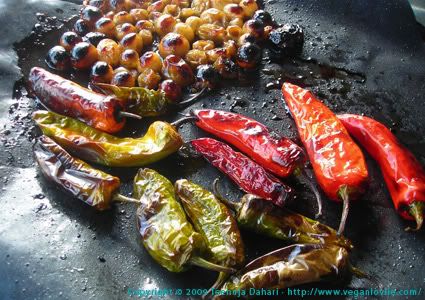 Meanwhile, sautee the aubergine in a little oil until lightly golden.

Do the same for the green beans until tender but still crisp.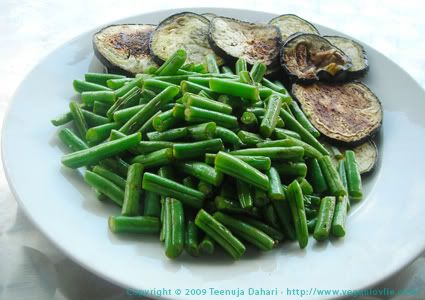 Shallow fry the tofu until lightly golden and slightly crispy.
Remove chilies from oven. Let cool. Slice the chilies open and remove the seeds, scrape the flesh from the skin. Place the flesh in a blender. Discard the skin.
Place the gooseberries in the blender. Add ginger, tomatoes and tamarind paste. Liquify.
Heat 1 tablespoon oil, pour the sauce from the blender in the pan and cook for a few minutes on high heat. Then lower heat and simmer for about 15 minutes.
Dilute cheese powder (if using) and cornstarch in a little water. Add to the sauce. Stir continuously to avoid lumps from forming. Add water if required.
Taste and add syrup (or sugar) and salt as required.
Remove sauce from heat.
Reserve 2/3 of the sauce.
Add the vegetables and tofu to the remaining 1/3 sauce in the pan.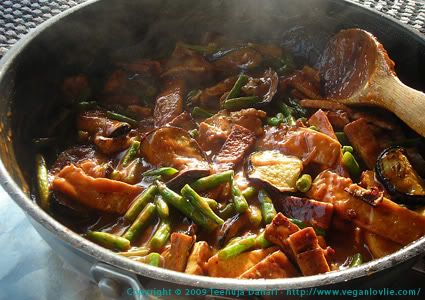 In a baking dish (I used a rectangular one), laddle 1/3 of the reserved sauce.
Then proceed to making the tortillas.
Place some vegetable and tofu on one tortilla, roll with the ends tucked in and place into the baking dish.
Repeat for the remaining tortillas.
Laddle the remaining sauce to cover the tortillas.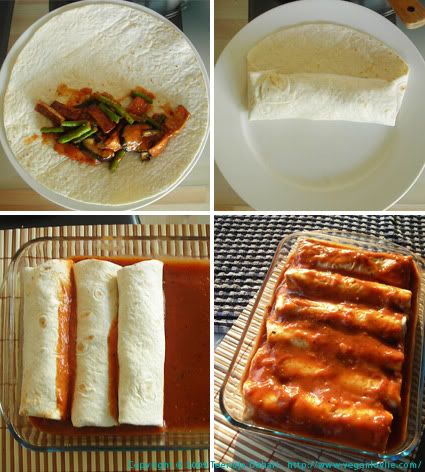 Bake in the oven at 200 degrees for about 20 minutes.