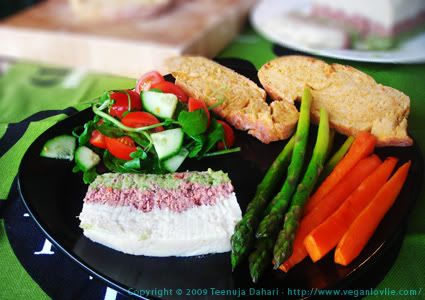 This month's challenge was different from what I expected but I liked it. I kind of make bean spreads quite often but never actually made a bean pâté before. The result was quite tasty I must say! However, the pâté is supposed to be eated cold with bread to go with the summery weather, in the northern hemisphere at present. Well, in Ireland, it's not very summery at the moment, despite being in the northern half of the planet. And especially, I chose to do this challenge just on the eve of the posting date. It was rainy and not warm. So, I decided to make a warm hearty bread to compensate - Sweet Potato Bread. And my, was that tasty! I'm not a great fan of bread in general but I am a fan of sweet potato and BoyfriendLovlie is quite the contrary. With this bread, it seems like we found common ground!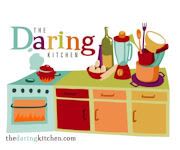 Our hostesses this month,
Evelyne
of
Cheap Ethnic Eatz
, and
Valerie
of a
The Chocolate Bunny
, chose delicious pate with freshly baked bread as their June Daring Cook's challenge! They've provided us with 4 different pate recipes to choose from and are allowing us to go wild with our homemade bread choice.
THE DARING COOKS JUNE 2010 CHALLENGE:
PÂTÉS AND BREAD

I chose to make the Tricolor Bean Pâté and it turned out tastier than I thought it would be. All three layers combined give a delicious taste. And eaten as a spread on the warm Sweet Potato Bread, it was just perfect for this moist evening.
I can't believe how easy and quick it was to whip this pâté together. I already had boiled butter beans, red kidney beans and cannelli beans. I usually regularly boil a big batch of beans, divide them into small portions and freeze them in freezer bags. This makes preparing meals that call for them so much quicker.
The pâté took me a little over half an hour to do. The bread was a very easy one but it does require about one and a half hours to rise. So, if you are making both on the same day, you may want to start with the bread first and leave it to rise while you make the pâté.
Easy Sweet Potato Bread
Ingredients

2 1/2 cups (275g) strong white flour
1 rather big sweet potato (350g)
1 sachet (7g) yeast
100ml warm water
1 teaspoon sugar
5 tablespoons rice milk (soy milk is fine too)
2 tablespoons coconut oil (melt first, if hardened, then take 2 tablespoons of the liquid oil. Vegetable oil should also be fine)
1/2 teaspoon salt
Place sweet potato with the skin on in the microwave and cook for 5 minutes or until soft. Prick with a fork to test. (You may also boil the sweet potato).
Peel and discard the skin. Mash the sweet potato to a fine puree. Set aside to cool.
Place yeast and sugar in warm water. Stir to dissolve and let stand for 10 minutes.
Meanwhile, add oil and milk to flour.
Add sweet potato then the yeast mixture.
Mix with the hand until well combined. Then knead for 8 - 10 minutes. You may want to add a little more flour if too sticky or 1 - 2 tablespoons more milk if too dry. (This also depends on the moisture content of the sweet potato.)
Oil a large bowl and place in the dough. Cover with cling film and leave to rise for 1 and a half hours in a warm place.
The dough should double in size.
Preheat oven to 170 degrees Celsius.
Divide dough into 3 equal parts. Take one part and roll into a log. How long or thick you roll it will depend on the size or length of bread you want. I made mine rather short and fat, a bit like a country style bread. So, I leave this up to you. Repeat with the other 2 pieces.
Join the 3 pieces at the top and start braiding. Press to secure them at the end, then reshape to nice rounded smooth ends.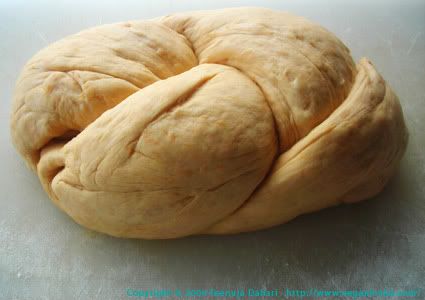 Place on a baking tray and bake for 1 hour (rotate bread 180 degrees on itself halfway through for even baking).
Remove from oven and allow to cool a little before slicing.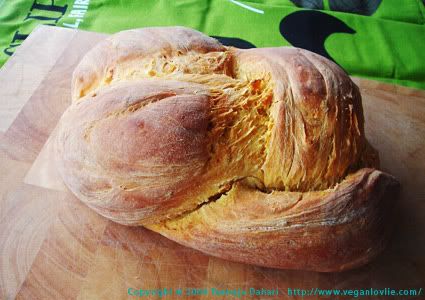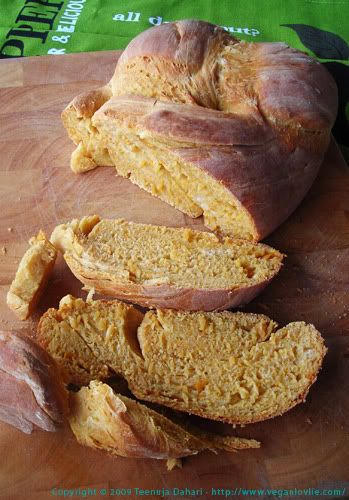 Tricolor Bean
P
âté
Ingredients (for 1 loaf pan)
White Layer
3 cups (450g) boiled butter beans, well drained
3 - 4 pieces pickled/oil-preserved artichoke hearts
1/2 teaspoon asafoetida (optional, you may also use some dried herb seasoning)
1 tablespoon vegan cheese powder (or vegan parmesan or nutritional yeast)
1/2 teaspoon salt (or to taste)
Pink/Reddish Layer
2 cups (300g) red kidney beans
4 sundried tomato halves (I used the ones preserved in oil. If you are using dried ones, rehydrate them by soaking for a few minutes in some warm water first)1/4 teaspoon asafoetida (optional, you may also use some dried herb seasoning)
1 tablespoon vegan cheese powder (or vegan parmesan or nutritional yeast)
1/4 teaspoon salt
Green Layer
1 1/2 cups (250g) broccoli florets, boiled1 tablespoon vegan cheese powder (or vegan parmesan or nutritional yeast)
1/2 cup (120g) boiled canneli beans1/4 teaspoon salt
Start with the white layer, place all ingredients in a food processor or blender. I used a hand blender. Process to a thick puree.
Line a loaf pan with cling film; this is for easy demolding. Pour the puree and spread with a spoon to a smooth surface.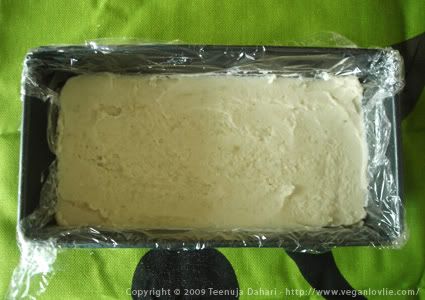 Repeat with reddish layer.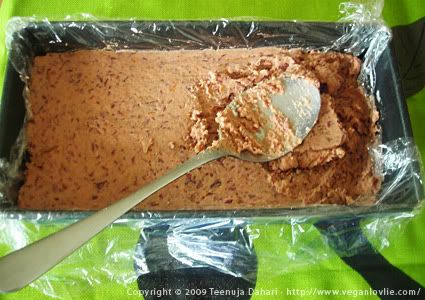 Then green layer. Because I was using a hand blender, I cut the boiled broccoli as small as possible before blending them.
Place the loaf pan in the fridge for 4 - 5 hours.
Freeze for 30 minutes before demolding, slicing and serving.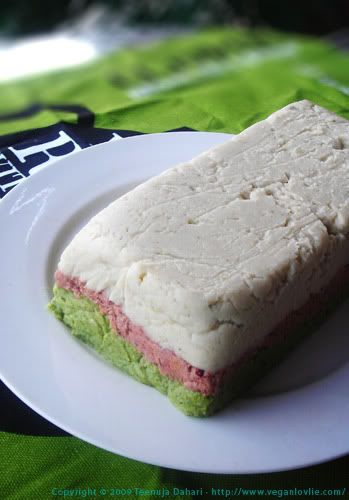 I served this pâté with sweet potato bread, salad, some asparagus and carrots both tossed for a few minutes with some margarine in the a medium hot pan.
Both the pâté and the bread is something I will definitely be making again - a request from the boyfriend!