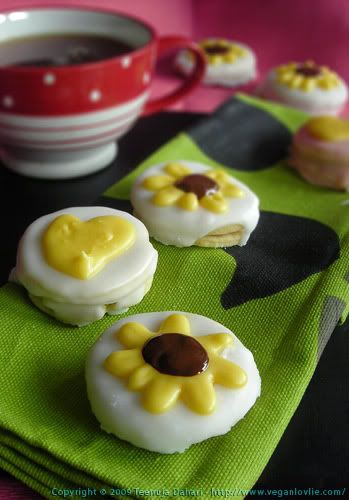 This month's Daring Baker's Challenge was set on a theme and the theme was September. September meaning whatever the month of September means to us (the Daring Bakers). Well, for me September started with some not so good news (if I put it that way) as Mum required urgent surgery. But everything went fine and she is now recovering. So, my theme for September is Mum's recovery. I was not in my home country to support her so I dedicate these sunflower decorated sugar cookies to her. Sunflowers are her favourite flowers! And yellow hearts, yellow being her favourite colour.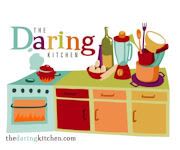 DARING BAKERS SEPTEMBER 2010 CHALLENGE: DECORATED SUGAR COOKIES
The September 2010 Daring Bakers' challenge was hosted by Mandy of
What the Fruitcake?!
Mandy challenged everyone to make Decorated Sugar Cookies based on recipes from Peggy Porschen and The Joy of Baking.
The sugar cookies I made are based on a famous Mauritian cookie recipe. We called them Napolitaines. They are basically buttery soft cookies, sandwiched with a layer of jam and iced with a sugar coating. Apart from the icing, they are usually not decorated and coloured pink (although all sorts of variations exist). For an authentic Mauritian flavour, 1-2 tablespoons of rum is added to the dough. I omitted this however. Also I couldn't find any vegan red food colouring over here, so I just used the strawberry jam itself as colouring agent in the icing.
Decorated Sugar Cookies (Mauritian style - Napolitaines)
(About 15 cookies)
300g sifted white flour
180g vegan margarine (cold)
2 - 3 tablespoons raspberry or strawberry jam (for spreading on the cookies)
1 tablespoon rum (optional)
For the icing:
300g icing sugar
30 ml water at room temperature
Strawberry jam for pink colouring (or a few drops vegan red food colour)
Pinch pf curcuma powder (the yellow colouring from turmeric) for yellow colouring
Melted chocolate (just place 1-2 squares in the microwave)
Place margarine into the flour. Cut into tiny pieces then rub with the fingers to make a soft dough.(Use a little more margarine if necessary but do not use water). Sprinkle in the rum (if using). Wrap up the dough in plastic wrap and refrigerate for 30 minutes.
Preheat oven 180 degrees Celsius.
Roll dough out on a lightly floured surface to a thickness of about 4 mm. Cut small circles, about 5 cm in diameter from it.
Re-roll trimmings and cut more circles.
Place them on lightly greased baking sheets and bake until cooked but still beige in colour, not brown. Allow to cool.
When cooled, spread jam over half of the cookies and cover with the remaining ones.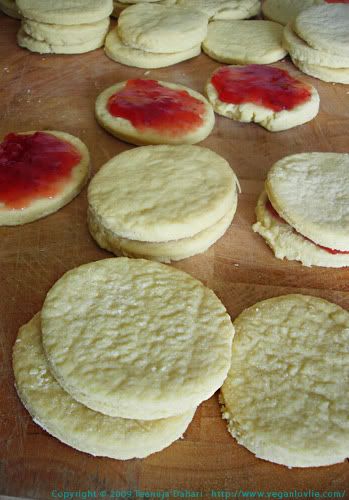 Mix the water with the icing sugar to make the icing. Leave some white. Divide the rest into 2 parts. Add a little jam to obtain the pink colour and a little curcuma for the yellow colour.
Adjust the consistency using more icing sugar (if too thin) or water (by drops, if too thick.
Mix well until a consistent colour is formed.
To test consistency, drop some on the cookies, it should take about 10 seconds for the icing to cover the cookie including the sides. You'll need to slightly lift the spoon and tap it again on the top icing and around the edge to allow the icing to overflow on the sides.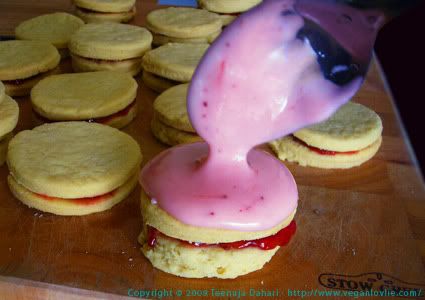 Ice the whole batch of cookies. Leave iced cookies to dry for a few hours or preferably overnight before doing the decorations. (If so, you may want to do the yellow coloured icing the next day).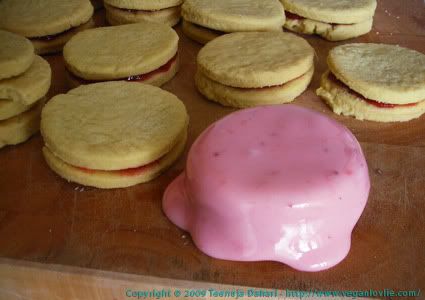 To decorate with flowers, I used medium piping tip.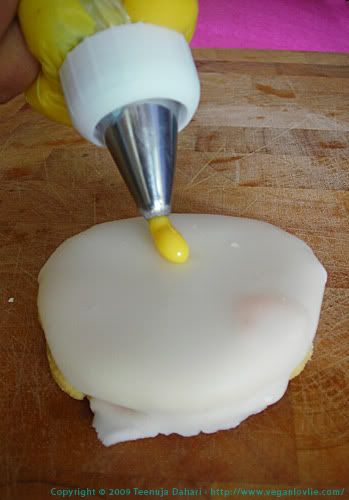 Work from the centre outwards then coming back to finish in the centre.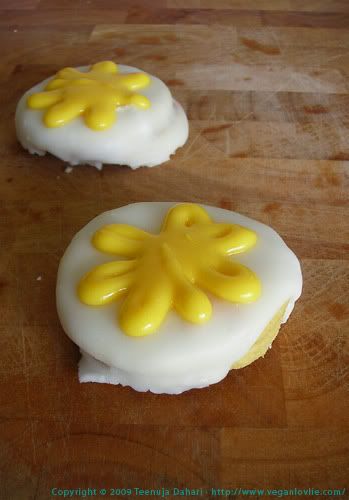 Drop some melted chocolate in the centre with a toothpick.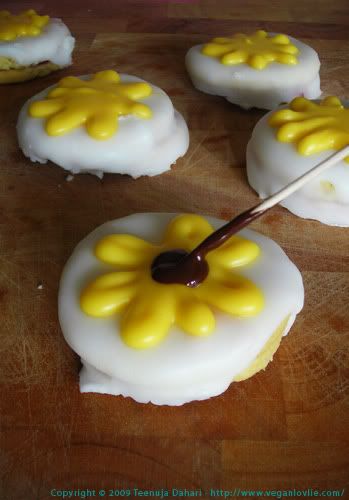 Enjoy!