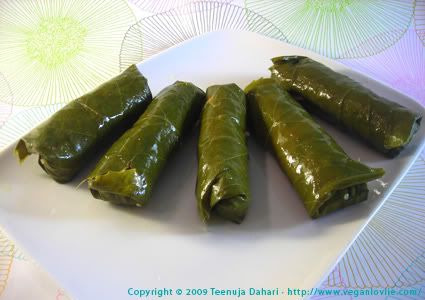 Stuffed grape leaves (also known as dolmades) is something I always buy at the store in cans or just ordered from restaurants. I had never actually thought of making my own until this month's Daring Cooks Challenge. It was a nice challenge and I now like the homemade version better. Apart from how simple it is to make stuffed grape leaves, it is also very versatile.
(I am posting this challenge 2 days late by the way!)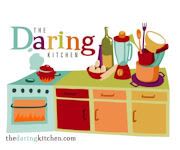 DARING COOKS OCTOBER 2010 CHALLENGE: STUFFED GRAPE LEAVES
Our October 2010 hostess,
Lori
of Lori's
Lipsmacking Goodness
, has challenged The Daring Cooks to stuff grape leaves. Lori chose a recipe from Aromas of Aleppo and a recipe from The New Book of Middle Eastern Food.
I found the grapes leaves preserved in brine.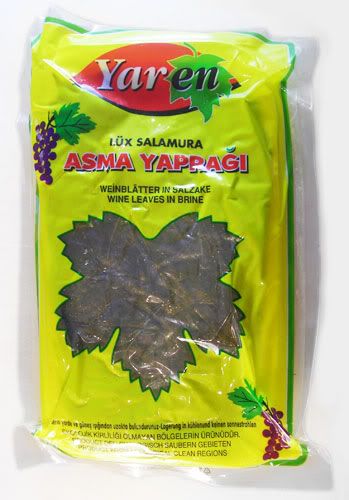 I bought a pack that contained loads of leaves!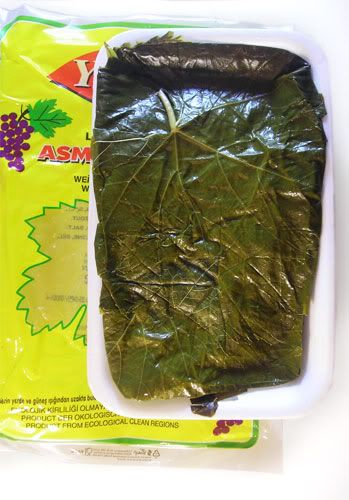 I think this is going to last me a year, I hope they don't go off quickly; I'm not sure of their lifespan.
After separating them, I let them soak for a bit in some boiling water. I should have done this 2-3 times as was suggested in the recipe but I was short of time, so I did it just once.In consequence, the leaves were not as soft as I would have liked them to be.
As for filling, I only used some left over rice and grated carrots with a simple seasoning.
Stuffed Grape Leaves
Ingredients
(about 8 - 10 stuffed leaves)
8 - 10 vine/grape leaves (if preserved in brine, soak and rinse a few times in hot water. If using fresh ones, soak in hot water until tender.)
1 cup cooked rice
1 medium-sized grated carrot
1 teaspoon tabasco
1 teaspoon paprika
2 tablespoons maple syrup
Salt to taste
Mix all ingredients together (except vine leaves).
Proceed to filling the leaves.
Filling is relatively easy, you might need a little practice with the first ones if you've never done some sort of dough wrapping before.
Place a little filling in the centre of the leaf, turn the extremities closest to you over the filling and roll back to enclose firmly.
Then fold over the extremities on the sides and roll to enclose.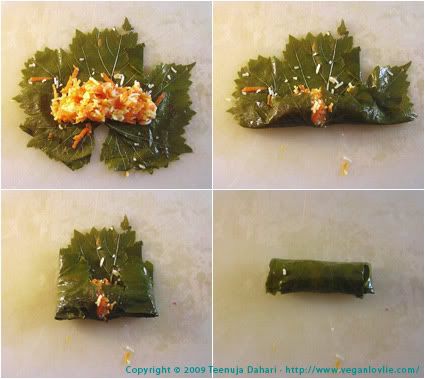 Place all stuffed leaves in a bowl and dizzle with olive oil. Let stand for a while before serving.
Yummy, this made a nice lunch and it kept well for two days.