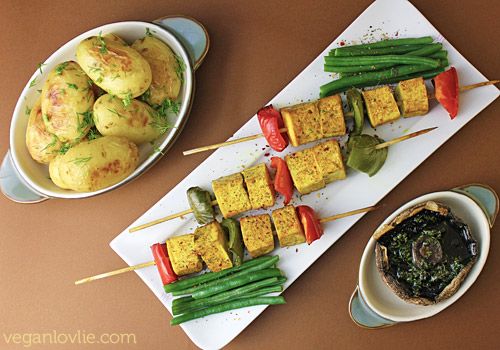 Fridays are literally my favourite evenings; the reason being obvious! While the dinner menu varies greatly on Fridays, it always calls for something nice and comforting but not time consuming. For this I have an array of tasty meals that are under 40 minutes, preparation through to being ready.
One of my Friday menus that I really enjoyed (and bound to make again) was these
Turmeric Tofu Skewers
accompanied by
baby potatoes
, oven baked
portobello mushrooms
and
steamed green beans
.
To make this meal in 40 minutes, start with the baby potatoes. Allow 4 - 5 per person (depending on their size). Steam for about 15 - 20 minutes or until soft (when pricked with a fork). Then, sprinkle with some fresh herbs (dill in this case) and transfer into the oven; bake for 10 minutes. No need to grease the potatoes but do grease the tray.
While the potatoes are steaming, prepare the tofu for the skewers.
Ingredients (for 6 skewers)
1 block (about 350g) firm tofu
1 - 2 bell peppers
Marinade:
1 teaspoon turmeric powder
1 pinch cayenne pepper (or chilli powder)
1 pinch ground cumin (optional)
Salt to taste
1 tablespoon water (more or less)
Mix all marinade ingredients together with the water to make a paste (not too thick) in a bowl.
Cut tofu block into 24 chunky square pieces.
Drop the pieces into the marinade bowl and mix well, taking care not to break the tofu.
Leave the tofu to marinade for about 10 minutes.
Meanwhile, cut the bell peppers into chunky pieces.
Assemble the tofu pieces and peppers onto bamboo skewers, alternating veggies and tofu.
Place on a lightly greased oven tray.
Bake at 170 degrees Celsius for 30 minutes, turning the skewers over themselves occasionally to ensure even baking.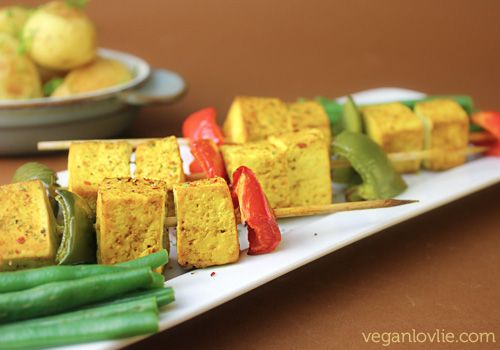 As for the mushroom, drizzle with a bit of chilli oil and some fresh dill; bake for 10 minutes. (Put this in the oven after the tofu skewers have baked for 20 minutes).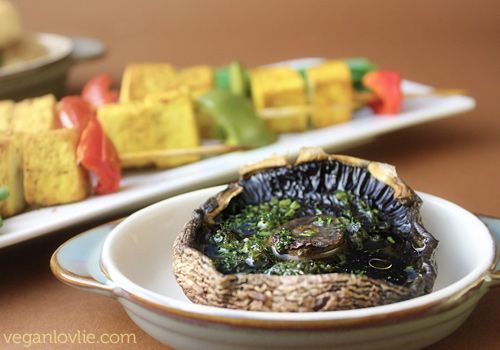 While all (skewers, potatoes and mushrooms) is baking for the final 10 minutes in the oven, steam a handful of green beans for 5 minutes (you already have the steamer out for the potatoes).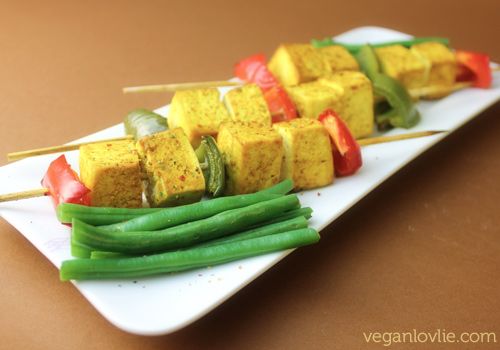 Yummy, really quite impressive yet simple, under 40 minutes also low fat and low calorie! We shouldn't even be counting calories for meals like these.
Nutrition Facts per Tofu Skewer:
Nutrition Facts
Amount Per Serving
Vitamin A

2

%
•
Vitamin C

34

%
Calcium

10

%
•
Iron

2

%
* Based on a 2000 calorie diet
Nutrition Facts for meal suggestion with 3 skewers, 5 baby potatoes, mushroom, handful steam green beans (approximation only, will vary on the actual weight of your ingredients):
Nutrition Facts
Amount Per Serving
Vitamin A

24

%
•
Vitamin C

152

%
Calcium

39

%
•
Iron

15

%
* Based on a 2000 calorie diet