My allergy to nuts and seeds sometimes limit the different kinds of foods I could have. Beans and pulses are my main protein source although a good amount of raw fresh living foods do provide for amino acids which is essentially what the body needs. In that respect, if anything but for their great taste, nuts are not actually missed in my diet! Sure thing that they could be a handy snack but I tend to snack more on fruits which is much lighter and refreshing.
Quinoa is one tasty grain I resort to when I get tired of pulses and other beans. Much lighter on the stomach, yet very filling, it can replace rice while providing a higher amount of protein and amino acids. Quinoa is literally one of my regular packed lunches as it does not necessarily need to be consumed warm. Its preparation does not require much effort; it only takes about 20 minutes to boil, no pre-soaking required. Salad is quite handily my favourite dish from it and miso dressing marries it very well to my taste.
On another note, did you know that miso can actually help protect against radiation sickness? So does
Wikipedia
tell me:
"Some, especially proponents of healthful eating, suggest that miso can help treat radiation sickness, citing cases in Japan and Russia where people have been fed miso after the Chernobyl nuclear disaster and the atomic bombings of Hiroshima and Nagasaki. Notably, Japanese doctor Shinichiro Akizuki, director of Saint Francis Hospital in Nagasaki during World War II, theorized that miso helps protect against radiation sickness."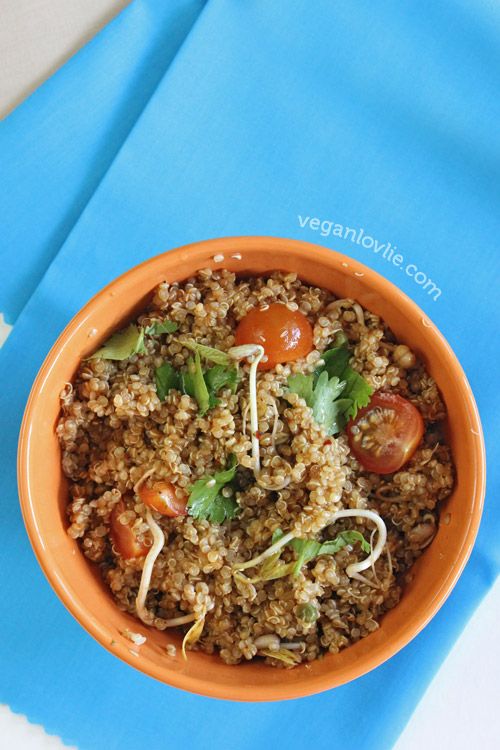 Quinoa Salad with Miso Orange Dressing
Ingredients (serves 2)
1/2 cup quinoa
4-5 cherry tomatoes
Handful beansprouts
Bunch parsley (a few stems), finely chopped
Dressing:
1 heaped teaspoon miso paste (I used dark hatcho miso)
1/4 or 1/2 of an orange
1 teaspoon maple syrup
Cracked dried chilies (optional)
Salt to taste
Iceberg lettuce leaves for serving
Boil quinoa according to package instructions. (All water should be absorbed). Let cool completely.
Cut tomatoes into halves or quarters.
Squeeze the juice out of the orange wedge. Mix all ingredients of the dressing into a smooth paste.
Add dressing to quinoa along with all the other ingredients.
Leave to macerate for about 10 minutes before serving.
This salad stores well overnight in the fridge for your next day's packed lunch.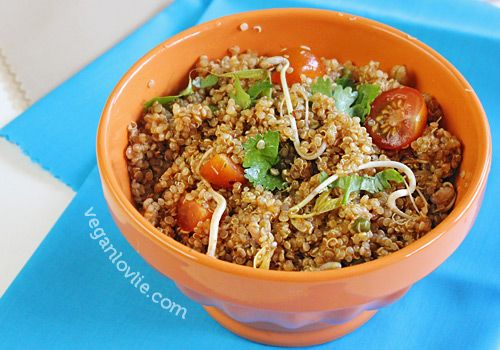 You can serve this just tossed into a lettuce leaf.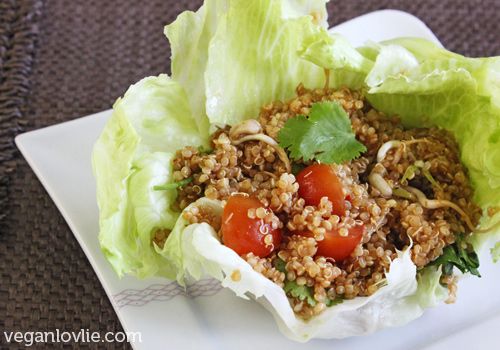 Or wrapped in an iceberg lettuce leaf. Secure with a toothpick.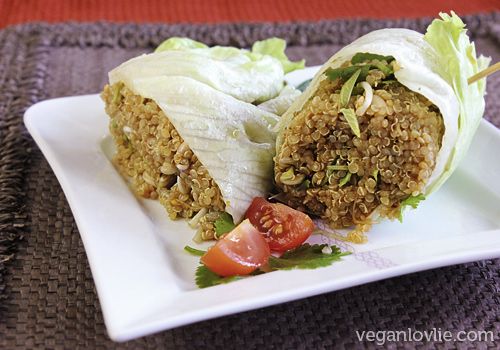 The recipe yields 2 servings and the nutrition facts below are based on 1 serving.
Nutrition Facts
Amount Per Serving
Vitamin A

14

%

14

•
Vitamin C

37

%

37

Calcium

7

%

7

•
Iron

15

%

15
* Based on a 2000 calorie diet
*Nutrition values are an approximation based on ingredients that I have used in this recipe. It will vary with the ingredients (different brands) that you use and portion size.