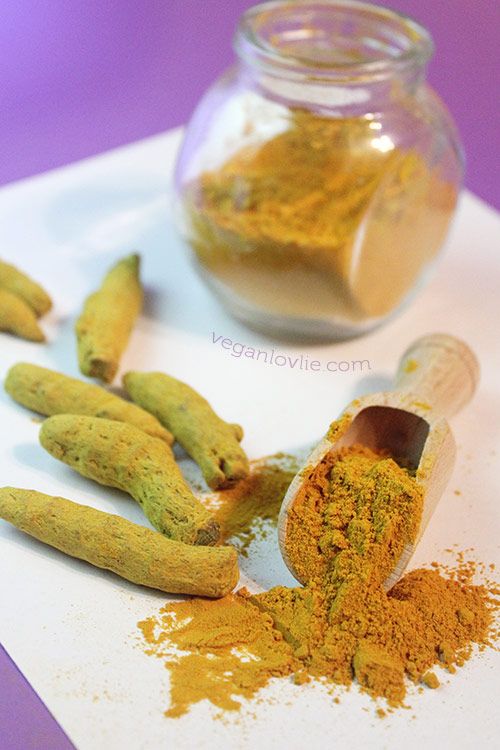 Is turmeric a regular ingredient in your diet? If not, you should really be looking into incorporating turmeric into your recipes. Turmeric is well known for its medicinal, anti-bacterial, anti-fungal properties. While in many cases, it is applied topically onto wounds as a disinfectant and healing agent, it is commonly found in a lot of Indian and other Asian dishes. You would most commonly find it in curries and sauces, although turmeric milk beverages is also a very popular way of consuming turmeric. I really enjoy it in a little warm oat milk with some maple syrup and ginger. It cures flu and cough.
Here are some more information on the benefits of turmeric on
WHFoods
.
Turmeric is always in stock in my pantry. I consume turmeric a couple or more times a week. If it's not going into a sauce or rice dish, it goes into my regular smoothies. A quarter teaspoon of turmeric powder into any fruit and non-dairy milk smoothie works well for me.
I try to make my smoothies seasonal and varied. Plums are in season at the moment and I bought a big pack of small yellow ones the other day. They have slowly been ripening on the kitchen counter, tasting nicer every day after the other. They are so refreshing to just pop one or two in your mouth whenever a little hunger hits. But soon they were ripening too fast! So, I've been putting them in my smoothies too!
Plum and Turmeric Sunshine Smoothie

Ingredients (Serves 1 - 2)
2-3 yellow plums
1 banana
1-2 strawberries (optional)
2 medjool dates
1 tablespoon maple syrup (for the benefit of magnesium and zinc which are great for the immune system)
1/4 teaspoon turmeric powder
Non-dairy milk as required to thin out consistency (I used rice milk)
Soak the dates in some warm water. In the meantime, peel and stone the plums and peel the banana. Chop into small pieces.
Pit the dates.
Place all ingredients (except) in a blender and blend until smooth.
Drizzle with a little maple syrup and serve!