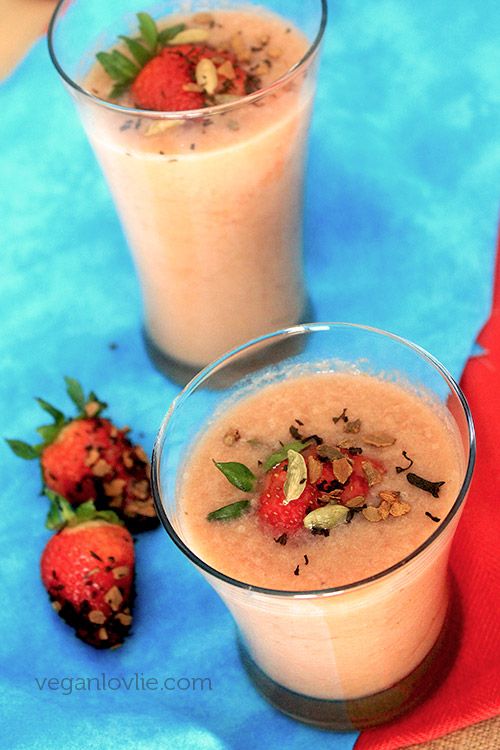 While another surge of bitterly cold Arctic air is hitting North America this week making the temperatures drop to -15 degrees Celsius today, the call for staying indoors wrapped in a blanket with a cozy warm drink is not a mere craving — it's an urgent need! At the same time I had resolved myself to go an a two-week health kick with a boost of fruity smoothies and raw salads; you see, I thought it was going to warm up as we are stepping into the Spring zone.
Determined to stick to my initial (light) detox plan, I had no choice but to experiment with a warm spiced smoothie concoction. The aroma of this spiced tea strawberry-banana smoothie was more than enough to invigorate and cuddle me up.
The tea connoisseur in me really can't resist passing by a tea shop without stepping in. As a result, I had to buy some Chai along with some Assam varieties from
Davids Tea
the other day in the shopping mall close by. Both varieties are very flavoursome although I do have a preference for the assam. For some reason, my tastebuds prefer the chai variety in cooler beverages. The subtle yet quintessential aroma of this spiced tea added the perfect myriad of flavour to this otherwise classic strawberry-banana smoothie.
Ingredients (serves 2)
1 tablespoon loose chai
1 banana
4 - 5 strawberries
1 apple (peeled and cut into smaller pieces)
100 ml coconut almond blend non-dairy milk (can be substituted by any non-dairy milk)
2 tablespoons maple syrup
Boiling water for brewing the tea
Brew the chai in 1/2 cup of boiling water for 3 minutes. Strain and let cool down until tea is warm.
Add tea to the rest of the ingredients in a blender and blend until completely smooth.
Drink immediately and enjoy the aroma.